Billionaire Pesenti Family Eyes Private Equity After Cement Sale
by
Italmobiliare agreed to buy Clessidra, owner of Cavalli brand

Pesenti has no lock-up deal for company's Heidelberg stake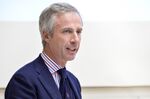 Italy's billionaire Pesenti family is shifting its investment focus to private equity, armed with almost $2 billion from the sale of its 152-year-old cement business to Germany's HeidelbergCement AG.
Carlo Pesenti, 53, leader of the family's holding company Italmobiliare SpA, has already made his first move with a 20 million-euro ($22.3 million) acquisition of Italian private-equity firm Clessidra Sgr, owner of Florence fashion house Roberto Cavalli SpA. He has also invested in a fund of U.S. banker Byron Trott.
"I've always been change-oriented and thought this was the right moment to act," Pesenti said in an interview. "Clessidra was an unexpected opportunity to accelerate Italmobiliare's transformation."
With the 1.7 billion-euro sale to HeidelbergCement, the Pesentis find themselves in a similar position as other Italian industrial clans, such as the Benettons. Some of the country's best-known family-owned companies have been sold to foreign buyers in the last year, making them cash rich with an array of investment options. Deals targeting Italian companies rose 81 percent last year to $67 billion last year, according to data compiled by Bloomberg.
Like the Wallenbergs
Pesenti's strategy is to turn Italmobiliare into a family holding company similar to Investor AB, which the Wallenbergs have had in place in Sweden since 1916. Italmobiliare, based in Milan, will remain listed on the Italian Exchange. It would buy minority stakes in publicly traded companies in Europe and North America that generate high cash flow and stable dividends. In addition, it also may buy control of smaller companies with high growth potential.
This week Pesenti is traveling to London to seek approval from the majority of investors in Clessidra's Capital Partner III fund, a requirement to close the purchase. Clessidra became an acquisition candidate following the January death of Claudio Sposito, who founded the firm in 2003. In addition to Cavalli, Clessidra's investments include financial services provider Istituto Centrale delle Banche Popolari SpA and Italian jewelry company Buccellati.
Pesenti plans to re-open Capital Partner III and boost its funds to 800 million euros from 500 million. He will invest up to 100 million euros, may take the chairman position at Clessidra and might appoint a new CEO. Francesco Trapani could keep an advisory role at the company, he said.
Italmobiliare will have a net asset value of about 2.1 billion euros after the Italcementi deal is completed, probably by July after antitrust approval in mid-June. The holding company, which is controlled by the Pesentis with a 47 percent stake, more than doubled its value in the last four years as Pesenti restructured the business.

He intends to keep for the moment the stake in HeidelbergCement of about 5 percent, for which he doesn't have any lock-up agreement, because he expects the company to create value. Pesenti considers the shares as cash-equivalent. HeidelbergCement, the world's third-largest cement-maker, was the best partner for Italcementi SpA and a way for Italmobiliare to reduce its dependence on a cyclical and "tough" business, he said.
The owner of a small stake in RCS MediaGroup SpA, the Italian publisher that's in the midst of a takeover battle, Pesenti said he doesn't intend to join the fray.
"The media sector is facing a deep transformation; we have other priorities and no current plan to invest our cash there," he said. "The timing isn't right."
After HeidlebergCement announced the reduction of 400 jobs in Italy, the Pesentis have been criticized by some labor unions for the sale of an well-known Italian company to a foreign investor. Pesenti says the family isn't exiting the country. 
"With Clessidra we are revamping our commitments in Italy through a different vehicle."
Before it's here, it's on the Bloomberg Terminal.
LEARN MORE