Bessemer-Backed Twilio Files for Initial Public Offering
by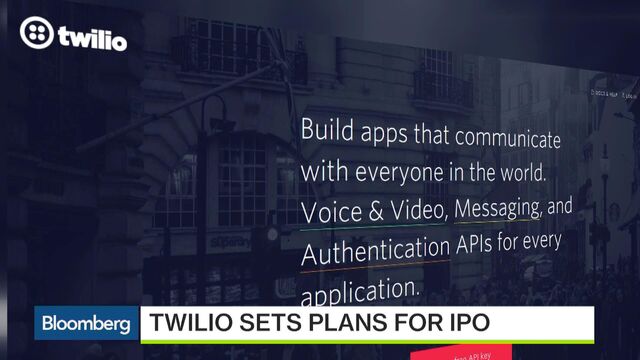 Twilio Inc., the San Francisco-based company that helps clients including Uber Technologies Inc. build web and mobile applications, filed for an initial public offering.
The software developer, backed by Bessemer Venture Partners, filed with an initial offering size of $100 million, a placeholder amount used to calculate fees that will probably change.
Twilio had more than 28,000 active customers at the end of March, according to the prospectus filed Thursday. They include enterprise-software company Box Inc., department-store chain Nordstrom Inc. and rideshare company Uber.
Twilio said in the filing its communications software is embedded in Uber's mobile app, helping it update riders in real-time about their ride requests as well as helping the company scale its business.
Acacia Communications Inc., which raised $119 million this month, including an overallotment to underwriters, is the only venture capital-backed technology or communications company to go public in the U.S. this year, according to data compiled by Bloomberg. The shares have climbed about 60 percent since their debut.
Bessemer holds a stake of 28.5 percent in Twilio, according to the prospectus. Union Square Ventures holds 13.6 percent and Fidelity owns 6.1 percent.
WhatsApp Tie
Twilio has yet to make a profit. It posted a net loss of about $36 million in 2015, on sales of $167 million, even as revenue grew 88 percent that year after a 78 percent bump in 2014. The company said that it expects its growth rate to decline over time.
WhatsApp Inc. contributed a significant chunk of that revenue. The messaging tool owned by Facebook Inc. uses Twilio's technology in its applications to verify new and existing users. WhatsApp accounted for 17 percent of Twilio's sales last year and 15 percent in the first three months of 2016.
Twilio plans to use proceeds from the offering for general corporate purposes, including investing in engineering, sales and marketing and to enhance its technology platform, according to the prospectus.
Goldman Sachs Group Inc. and JPMorgan Chase & Co. are leading Twilio's offering. The company plans to list on the New York Stock Exchange with the symbol TWLO.
Before it's here, it's on the Bloomberg Terminal.
LEARN MORE