Ex-Barclays Trader Tells Court of Obey or Be Fired Culture
by
Alex Pabon testifies at his London trial for Libor-rigging

Judge takes early break after Pabon choked back tears on stand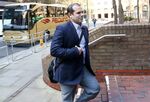 Barclays Plc fostered a culture where traders faced "significant consequences," including firings, if they didn't follow instructions of bosses, according to a former trader at the bank on trial for rigging Libor.
"You definitely followed instructions from your boss," Alex Pabon said Thursday in a London court in response to questions from his lawyer about the bank's culture. "It's not really an organization where you can decide, 'Well I'm going to do this' or 'I'm not going to do this."'
Pabon was testifying about his Barclays' career under Jay Merchant, who is also on trial. Pabon said Merchant told him to talk to the Libor submitters about the rates they wanted to be set, which he did and thought "was completely in the normal course of business."
Pabon and Merchant are on trial with former colleagues Stylianos Contogoulas, Ryan Reich and Jonathan Mathew for conspiring from 2005 through 2007 to fix the London interbank offered rate, or Libor, which is tied to trillions of dollars in securities and loans. Another ex-trader, Peter Johnson, has pleaded guilty to the charge.
Pabon said that he moved to Barclays from BNP Paribas SA with his then boss Fred Gourtay. The pair had three bad trades in a year that led to a loss of about $40 million and Gourtay was terminated at the end of July 2005, Pabon said. Gourtay was named as a co-conspirator in the case, but hasn't been charged.
Pabon admitted that he was surprised he wasn't fired as well, and attempted to keep a lower profile after that to keep his job.
'Burned Out'
Pabon tried to stop himself from crying during his testimony, saying he was "burned out" at Barclays in 2006 after the losses of the previous year and was thinking of leaving. The judge dismissed the jury for lunch early so Pabon could regain his composure.
Pabon apologized after lunch for becoming emotional, saying that it was "quite embarrassing." He told the jury that after leaving Barclays later that year he moved to Texas and never worked in banking again. He had no other "serious" jobs until he joined a software company in 2013.
When he found out he was going to be charged in the Libor case in 2014, his wife was close to giving birth, and had to be induced so he could be present for the delivery.
Under cross-examination, Pabon said he made Libor requests based on Barclays' trading positions but his submissions were also in line with the wider derivatives market. His cross-examination continues Friday.
Before it's here, it's on the Bloomberg Terminal.
LEARN MORE