The Electric Car You Can Charge Next to Your Phone
Bloomberg News
Li Xiang starts Chehejia to sell new-energy vehicles in China

Company aims to add to $380 million funding in second half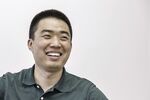 Li Xiang was earning 10 times more than his parents from part-time jobs when he left school in 1999 to focus on a website before starting Autohome Inc., China's premier car-buying portal. Now, he plans to not just sell vehicles, but design and build them too.
Chehejia, or "Car and Home," has raised 2.5 billion yuan ($380 million) in venture-capital funding since Li started the Beijing-based electric-vehicle business in July. A self-confessed petrolhead who's been likened to Telsa Motors Inc. co-founder Elon Musk, the 34-year-old aims to start selling a commuter car that can be recharged as easily as a mobile phone by the end of 2017.
A life-size plaster and wood prototype on display in Chehejia's research center shows Li's progress. He's already a latecomer in a market increasingly crowded with startups seeking to tap new technologies to build electric, auto-driven and digitally connected vehicles. Li wants Chehejia to differentiate itself with two models that rely less on public charging facilities and promise to meet 90 percent of the needs of commuters struggling with traffic snarls and a scarcity of parking space.
No 'Baggage'
"Traffic jams will only worsen in the major cities, and we need an updated means of transportation that can handle commutes for one or two people," Li said Tuesday in an interview from his research lab, which occupies two floors next to a Daimler-Benz service center in northeast Beijing. "Technology breakthroughs have offered opportunities for companies like us, which don't have the historical baggage that traditional automakers have, to design and make revolutionary products that best serve motorists' needs."
For a story on the various electric car startups in China, click here.
Li, who has six vehicles, was among the first in China to own Tesla's Model S, a full-sized, five-door, luxury liftback. He famously blogged about what he saw as the all-electric car's shortcomings on Chinese roads. The father-of-three uses a Mercedes-Benz S-class for his commute to work, though that may change with the release of the smaller of Chehejia's models.
It's a two-seater about the size of Toyota Motor Corp.'s i-Road three-wheeler. Selling for less than 50,000 yuan, it will be powered by two 10-kilogram batteries that can be transported for charging via household electricity sockets using a handcart.
Extended-Range SUV
A five-seat sports utility vehicle, featuring an extended travel range to 600 kilometers (373 miles), will enter the market by the end of 2018 and sell for less than 300,000 yuan, Li said.
Chehejia, which is building an all-aluminum factory in the city of Changzhou, has recruited from the ranks of Daimler AG, Toyota and Bayerische Motoren Werke AG. Its backers include LEO Group Co., Source Code Capital and Future Capital. A new round of financing is planned for the second half of this year, Li said.
'Huge Market'
"City dwellers need small, electric vehicles that can be easily charged and parked, and there's a huge market for it," said Xu Yingbo, chief analyst with Citic Securities Co. in Beijing. "I can see consumers embracing this and upgrading their cars the same way they ditched their old cellular mobiles for smart phones."
Xu sees the biggest challenge for Chehejia as being "policy uncertainties that could potentially undermine the company's development," she said.
Cao He, chairman of ZhongRong Venture Capital Fund Management Co., which hasn't invested in Chehejia, agrees. "Policy uncertainty is the biggest risk in the short run, yet the fundamental question is whether the car is solid technology-wise and tailor-made to meet people's demand for mobility," he said, adding that there needs to be market research into the potential uptake of low-speed electric cars before authorities will establish the framework to regulate such vehicles.
Low Speed
Chehejia's smaller electric vehicle has an upper speed limit of 70 kilometers per hour, requiring the company to obtain clearance to sell it. Before manufacturing can start, Chehejia will need to secure a production license from the industry regulator, Li said.
"It is not difficult to come up with a good product," he said. "What is challenging is to come up with a good product that people would be willing to buy."
Li is accustomed to backing his business acumen. He started his own website to market IT services in China when he was in school and expanded it to pcpop.com after he graduated from high school. By then, he was also writing about technology for a trade publication and working part-time in a shopping mall dedicated to computers.
His parents, both graduates of the Central Academy of Drama, China's premier theater school, didn't object to him spurning university. For one thing, he was earning more than 10,000 yuan a month from ads on his website alone, while they were making only a few hundred yuan each.
'Followed My Heart'
And since his parents were themselves college-educated, they didn't push the studies as hard as other parents who missed out on tertiary education, Li said. "I followed my heart and did what I really wanted to do," he recalled.
Six years later, he founded autohome.com.cn to help car buyers find their new set of wheels. It became the leading online destination for automobile consumers in China. Telstra Corp., Australia's biggest phone company, acquired control of the business for at least A$76 million ($55 million) in 2008. Its American Depository Receipts trading in New York value the company at about $2.8 billion.
In China, an estimated 37 billion yuan has been invested in new-energy vehicles over the past five years. Tesla's Musk says China's market has enormous potential given its pollution concerns and Shenzhen-based BYD Co. projects sales of its new-energy vehicles to reach 150,000 this year -- almost triple last year's total.
Li said he's confident Chehejia can penetrate the Chinese electric-car market the same way online retailers like JD.com Inc. and Alibaba Group Holding Ltd.'s Taobao have been able to reach the masses.
"With our models, I am sure we can be more successful in China than Tesla," he said. "We can be the Taobao.com and JD.com of China's auto industry."
Watch Next: Tesla Doubles Down With the Model 3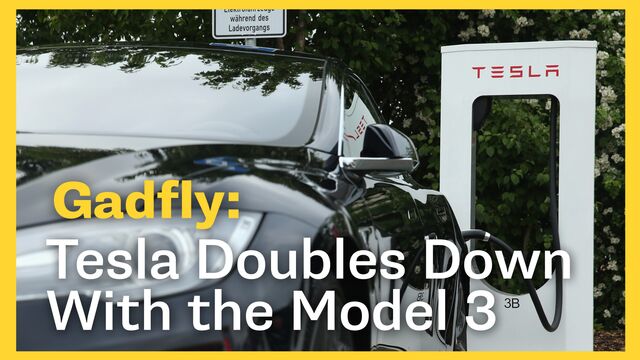 — With assistance by Tian Ying
Before it's here, it's on the Bloomberg Terminal.
LEARN MORE