A Tale of Two Gluts: Oil and Ore Cross $50 on Opposite Paths
by
Overproduction in iron ore is not likely to go away: Saxo Bank

Crude surplus is dissipating, International Energy Agency says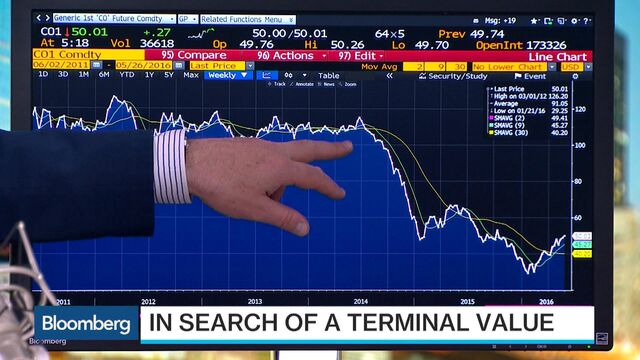 Crude oil and iron ore are two of the world's most important industrial commodities, where supply and demand are tied to the fate of the global economy. Yet, they're doing very different things right now.
Oil traded above $50 a barrel for the first time this year while iron, moving in the opposite direction, fell below $50 a ton on Thursday. It's a slightly artificial comparison -- there's little physical equivalence between a barrel of oil and a ton of ore -- but their differing paths tell us something about how the aftermath of the global commodities crash is playing out in different industries.
While both commodities have been plagued by overproduction, the glut looks to be ending in oil as unprofitable fields are shut and companies cut investments, according to forecasters from the International Energy Agency to Goldman Sachs Group Inc. In iron ore, where many big miners are still making money despite the slump, analysts at Capital Economics Ltd. and Saxo Bank A/S say prices may have further to drop as more low-cost production comes on stream.
"Overproduction in iron ore is not likely to go away, oil is much more balanced," Ole Hansen, head of commodity strategy at Saxo Bank, said by e-mail. "Oil will eventually move higher. In iron ore, most of the new supply coming online have production costs well below current levels, which leaves a strong incentive to continue producing."
Brent crude, the international benchmark, has recovered more than 85 percent to $50 a barrel from the 12-year low reached in January. Meanwhile, ore with 62 percent content delivered to Qingdao in China fell to $49.48 on Thursday, down 30 percent from the one-year high reached on April 21, according to Metal Bulletin Ltd.

For a QuickTake explainer on the battle for market share in iron ore, click here.
Oil production outside the Organization of Petroleum Exporting Countries is headed for its biggest drop since 1992 as the U.S. shale-oil boom that fostered the global surplus sputters out, the Paris-based IEA forecasts. U.S. output has fallen for 10 weeks to its lowest since September 2014, the Energy Information Administration estimates.
Even though heavy refinery maintenance has reduced demand for oil throughout May, a surge in disruptions to production has meant crude stockpiles may actually decline this month, a period when they usually increase, Energy Aspects said.
Iron's Volatility
Iron ore has been on a wild ride in 2016 following three years of losses spurred by rising low-cost production. A speculative trading frenzy in China helped to lift prices above $70 last month from below $40 in December, but they've fallen back on signs that global stockpiles are still building.
Port inventories in China increased 1.6 percent to 100.45 million tons last week, the highest level since March 2015, according to data from Shanghai Steelhome Information Technology Co. They're up 7.9 percent this year.
Citigroup Inc. said in a report on Tuesday it remained bearish on iron ore, forecasting persistent oversupply on rising output from the top miners like Brazil's Vale SA and BHP Billiton Ltd. as well as Gina Rinehart's Roy Hill project in Australia.
"It takes a long time to turn output in mining on and off; the oil tap is arguably easier to open and close," Robin Bhar, an analyst at Societe Generale SA in London, said by phone. "There was also a lot more to be done in metals, where demand collapsed. Oil hadn't experienced a similar collapse."
Before it's here, it's on the Bloomberg Terminal.
LEARN MORE