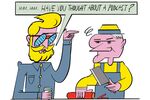 When you think about a summer getaway, Detroit might not be the first place on your list. But on June 10, that's where Nathalie Molina Niño, 40, an adviser to female entrepreneurs, will fly to from her home in New York. She took the same trip last year, paying $1,500 along with 125 other bright, young, civic-minded individuals to tour the city and talk to the business community. The highlight: a brainstorming session with Amy Peterson, co-founder of Rebel Nell, a company that hires disadvantaged women to turn chunks of graffiti into jewelry. "We spent close to three hours with her," Molina Niño says. "We created a Facebook group so after we left she could stay in touch." Attendees were booked at the Greektown Casino-Hotel and did a nighttime biking tour, Molina Niño says, but mostly they were there for one reason—to offer their opinions to struggling business owners.
It's not a weekend on the beach, but excursions like these are more and more popular among a new generation of mostly millennial travelers. Molina Niño's trips to Detroit were organized by Breakout, a leading company in what's known as the social-impact travel industry. Unlike "voluntourism" programs such as Habitat for Humanity, which appeal mainly to students, Breakout targets professionals age 29 to 36. A third of its 1,500 core members work in tech, a quarter in media and creative fields; 98 percent went to a four-year college. Becoming a member requires an interview. "We or one of our ambassadors will have a sitdown to ensure we're getting a good fit," says Michael Farber, 32, who founded Breakout with Graham Cohen, 31, in 2014.
The two met in New York in 2009 while working for a commercial real estate company. Breakout evolved out of their shared desire to "create a business where we spent all day meeting new and interesting people," Cohen says. They started by combing through "40 Under 40" lists for 100 scenesters in different fields who might benefit from knowing one another and invited them to network in Miami. Two Detroit residents who went on the Miami trip persuaded the founders to host a retreat in their city, and since last June, Breakout has also descended on Baltimore, Nashville, and Miami again with dozens of do-gooders.
Although it's tiny, the social-impact travel market is growing. Last June, Carnival Cruise Line started Fathom, which lets passengers attend onboard self-improvement seminars and partake in on-the-ground "impact" activities such as making ceramic water filters in the Dominican Republic. "We spent an enormous amount of time on qualitative, ethnographic research, really studying consumers' hunger for purpose," says Tara Russell, Fathom's president. "We found this hunger. We quantified it. We built the business model."
What's harder to quantify: Do these trips do anything more than make the people on them feel good about themselves? There are no "next steps" after a Breakout weekend ends; the onus is on each attendee to follow up with locals. (Molina Niño says activity in the Facebook group she set up with Peterson is occasional at best.) Some bridle at the pretension inherent in the mission. Participants parachute in, like a one-person McKinsey MASH unit, and ask how they might share their vast intelligence. "It's patronizing," says a former "Breaker," who asked to speak anonymously because the founders are friends.
Farber and Cohen counter that they urge Breakers to engage with underprivileged neighborhoods closer to home, too, in local chapters. "We have people in the network in Baltimore, in New Orleans, in Miami, in Detroit, and even though we might not do as much programming as we like, they're still masterminding with us," Farber says. Case in point: Ashley Sumner, 27, who lives in Los Angeles and heads Breakout's chapter there. "I got to Detroit and was like, 'What else do I need to see?' " she says. "I think I'm struggling because I didn't sleep last night. These people have been struggling all their lives."
Before it's here, it's on the Bloomberg Terminal.
LEARN MORE