Five Things You Need to Know to Start Your Day
Get caught up on what's moving markets.
by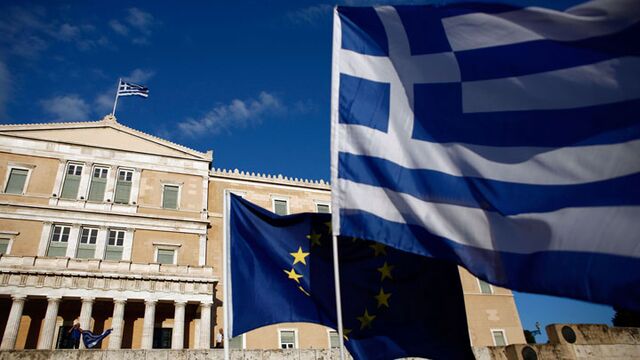 Want to receive this post in your inbox every morning? Sign up here
Deal reached on Greece, yuan fixing weakest since 2011, and rise of the (FX trading) machines. Here are some of the things people in markets are talking about today. 
Greece deal reached
Another Eurogroup meeting that ran into the early hours of the morning, another deal reached on Greece. This one paves the way for a €10.3 billion ($11.5 billion) aid payment to Athens. Significantly, the International Monetary Fund dropped its push for 'up front' debt burden reduction ahead of any further payments. In trading this morning yields on 10-year Greek government bonds fell below 7 percent for the first time since November.
PBOC weakens yuan fixing
China's central bank set its reference rate for the yuan at 6.5693 per dollar, its weakest since March 2011. The spot rate only fell 0.08 percent as investors didn't receive the move as the start of a new round of devaluations for the currency. If a depreciation of the currency does become a factor for investors, then the market for Dim Sum debt would likely be hit hardest. 
Rise of the machines
The Euromoney Institutional Investor Plc FX rankings released late yesterday yielded some interesting results. Citigroup Inc. retained the number one spot as the world's largest currency trader by market share, while there was more bad news for Deutsche Bank AG as the bank's market share slipped from 14.5 percent last year to 7.9 percent, dropping them to fourth place overall. The spot market showed the most interesting result, however, as XTX Markets Ltd., a computerized trading firm, has come from nowhere to claim the fourth place in that market - the first time an electronic specialist has displaced a bank in the annual survey. 
Market rally
Overnight, the MSCI Asia Pacific Index took its lead from U.S. markets, climbing 1.6 percent as Hong Kong and Japanese equities gained. European stocks are poised for their biggest two-day advance in two months as relief over the Greek debt deal and increasing commodity prices lifted stocks. The Stoxx Europe 600 Index was 1.4 percent higher at 6:15 a.m. ET. S&P 500 futures were 0.5 percent higher. 
Oil job losses
Royal Dutch Shell Plc has announced a further round of 2,200 job cuts, taking the 2015-2016 total to 12,500 as it tries to keep the company competitive during the extended period of low oil prices. Crude is rising this morning, with a barrel of West Texas Intermediate for July delivery trading at $49.17 at 6:20 a.m. ET. 
What we've been reading 
This is what's caught our eye over the last 24 hours.
Before it's here, it's on the Bloomberg Terminal.
LEARN MORE