Tiffany Sales Trail Estimates on Weaker Demand From Tourists
by
Luxury jeweler forecasts declining earnings, revenue this year

Same-store sales were weaker-than-projected in all regions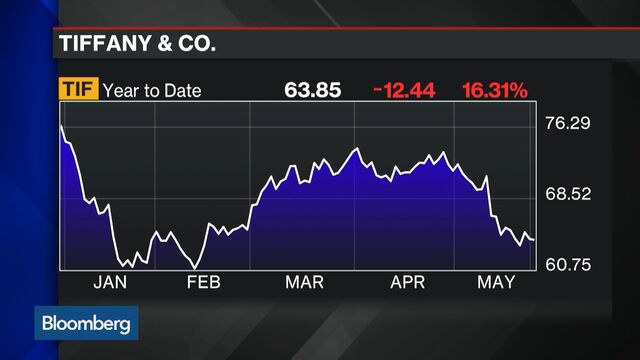 Tiffany & Co., the luxury jewelry retailer, posted first-quarter sales that missed analysts' estimates, hurt by weak demand from tourists and domestic U.S. consumers.
Revenue fell 7.4 percent to $891.3 million in the quarter through April 30, the New York-based company said Wednesday in a statement. Analysts had estimated $915 million, on average. Profit, which fell for a sixth straight quarter, was 69 cents a share, or 64 cents, excluding a tax benefit. Analysts projected 68 cents.

Tiffany is suffering from a strengthening dollar that's curtailing purchases by travelers, as well as a U.S. consumer malaise that's affected other retailers such as Ralph Lauren Corp. and Macy's Inc. Foreign tourists account for more than 25 percent of Tiffany's U.S. sales and 40 percent of revenue at its main store in New York's Fifth Avenue, according to Oliver Chen, an analyst at Cowen & Co. The company is introducing more new items, including high-end watches, to boost sales.
"High-end spending remains very pressured," said David Schick, an analyst at Consumer Edge Research LLC. "Tiffany must wait out macroeconomic and wealth cycles, but also innovate to capture customer interest and changing taste."
The shares slipped as much as 3.1 percent to $61.89 in New York. Tiffany already had slid 16 percent this year through Tuesday.
Glum Forecast
Tiffany signaled that the difficult environment will continue, forecasting that worldwide net sales would fall at a low-single-digit percentage rate in the current year. Profit will drop by a mid-single-digit percentage rate, the company said. Tiffany had previously said profit would be unchanged to down by a mid-single-digit percent.
Other retailers are releasing cautious outlooks as well. Apparel chain Express Inc. on Wednesday cut its earnings forecast for the year after posting first-quarter profit that trailed analysts' estimates. The shares tumbled as much as 17 percent to $13.25, the biggest intraday drop since January 2015.
More Watches

For Tiffany, sales grew in China and South Korea, but those gains were more than offset by a sharp decline in Hong Kong, which is expected to be pressured throughout the year, spokesman Mark Aaron said on a conference call. Fewer tourists in Europe because of terrorist attacks in Paris and Brussels also crimped sales, he said.
As sales of most of its jewelry categories suffer, the company is trying to find new revenue streams and plans to spur growth by introducing more high-end watches, which accounted for only 1 percent of total sales last year. Tiffany aims to increase that to 10 percent in the next decade, according to Nicola Andreatta, head of its timepiece business. That would probably make Tiffany one of the world's top 10 watch brands, he said in an interview.
The company could use the boost. Comparable sales -- or sales at stores that opened for at least a year -- fell 9 percent globally in the first quarter, excluding currency fluctuations. That was worse than the 4.6 percent decline that analysts expected, according to the average of estimates compiled by Consensus Metrix.
The weakness was widespread, with same-store sales missing analysts' projections in all regions:
In the Americas, they dropped 9 percent. Analysts estimated a 8.3 percent decline.
In Asia-Pacific, they slipped 12 percent. Analysts estimated a 7.2 percent drop.
In Europe, they fell 14 percent. Analysts estimated a 7.2 percent decline.
In Japan, they increased 5 percent. Analysts estimated a 10.2 percent gain.


Tiffany also is facing some turnover in its leadership ranks. Chief Financial Officer Ralph Nicoletti is leaving the company to join Newell Brands Inc. next month. His departure complicates Tiffany's turnaround efforts during a time of "significant pressure" in its core geographic regions, Ike Boruchow, an analyst at Wells Fargo & Co., said in a report this month.
Before it's here, it's on the Bloomberg Terminal.
LEARN MORE