Sponsor-Backed IPOs Drive Busiest Week for Listings in Slow 2016
by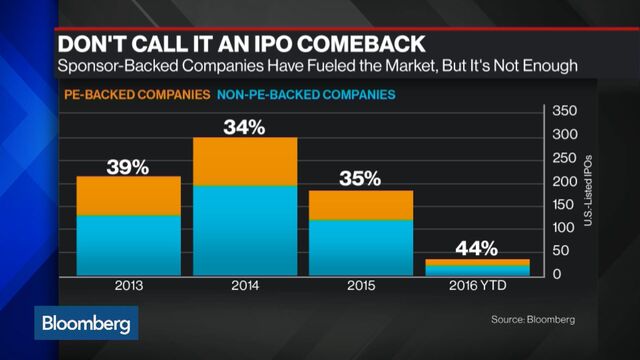 After a slow start, this week is poised to be the busiest for U.S. initial public offerings this year. Don't call it a comeback just yet.
Six companies are set to start trading on U.S. exchanges this week, with the potential to raise as much as $1.7 billion. If they all complete their IPOs, it'll mark the busiest 5-day trading period for new listings since early November: So far in 2016, an average of just 1.5 companies a week have priced IPOs.
This week's deal flow is led by the biggest corporate offering so far in 2016. Food distributor US Foods Holdings Corp. -- once a takeover target for Sysco Corp. -- is set to raise as much as $1.1 billion if it prices at the high-end of its marketed price range on Wednesday.
While the handful of deals might provide a glimmer of excitement, its still the slowest start to the year for U.S. IPOs since 2008.
Of the listings that have made it to market, a higher-than-usual number are sponsor backed, as buyout firms seek to exit investments.
US Foods -- backed by KKR & Co. and Clayton Dubilier & Rice -- along with 15 other sponsor-backed companies, will account for 44 percent of corporate IPOs on U.S. exchanges by the end of this week, according to Bloomberg data that excludes special purpose companies, retail investment trusts and funds. That tops the 35 percent of total deals in 2015.

Cotiviti Holdings Inc., the health-care payments processing and auditing company backed by Advent International Corp., and GMS Inc., the ceiling and wallboard supplier backed by AEA Investors, are also due to price on Wednesday.
Midland States Bancorp Inc., which raised $79.2 million on Tuesday, Reata Pharmaceuticals Inc. and Clearside Biomedical Inc. round out this week's IPOs.
Almost absent from this year's list are technology companies backed by venture-capital investment. Acacia Communications Inc. has been the sole listing, raising $119 million. Last year saw 17 IPOs of VC-owned technology and communications companies, raising a total $3 billion.
Before it's here, it's on the Bloomberg Terminal.
LEARN MORE