business
Saudi Devaluation Bets Show Foreign Banks More Wary Than Locals
By and
Onshore, offshore divide for riyal options widest in 4 months

Plan to pay contractors with IOUs stokes investor caution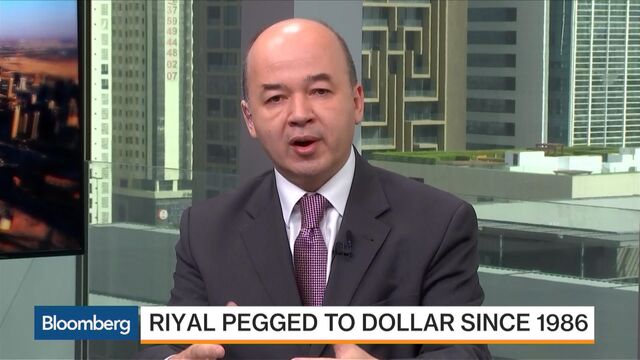 Contracts used to bet on a devaluation of Saudi Arabia's currency are diverging between local and international banks, as global lenders become less willing to trade with those in the kingdom.
The gap between one-year forward contracts on the Saudi riyal at domestic and international institutions grew to the widest since January on Tuesday, according to data compiled by Bloomberg. Forwards quoted outside Saudi Arabia jumped 155 basis points this month as people familiar with the matter said the government is mulling paying contractors with credit notes. At local lenders they have dropped 15 basis points.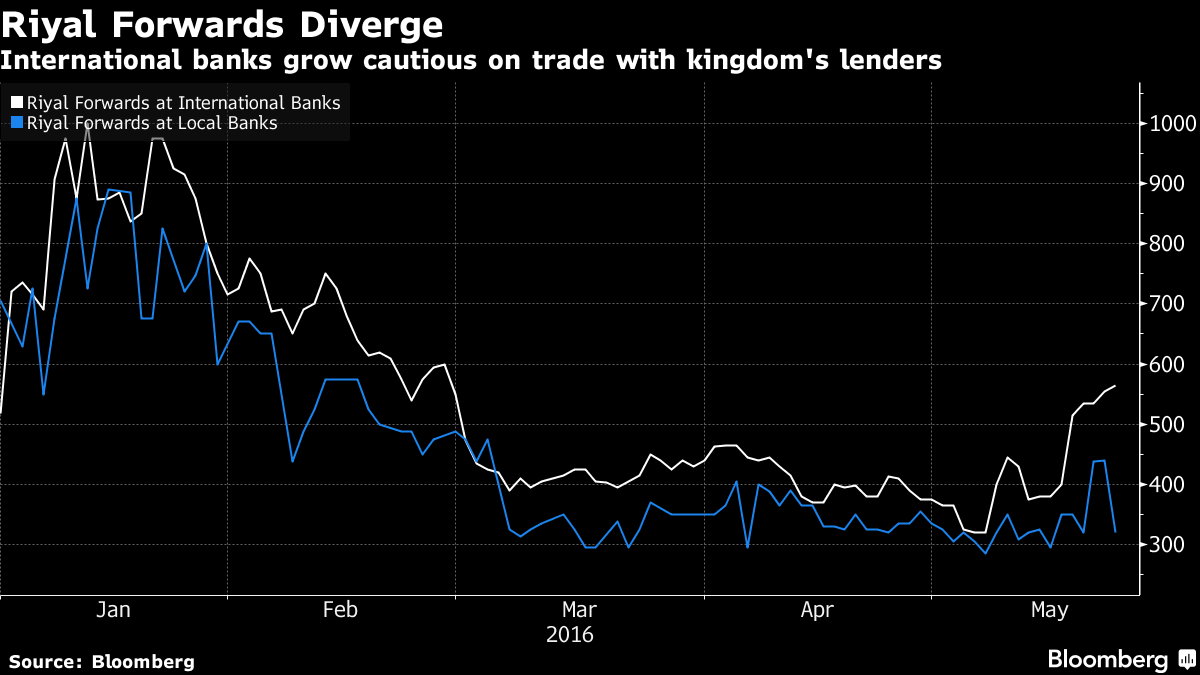 The growing spread between the contracts, used by traders to speculate whether the kingdom may adjust its currency fix after three decades at 3.75 per dollar, indicates international lenders are cutting exposure to Saudi counterparts after oil prices slumped by half in the past two years. Government borrowing may top 120 billion riyals ($32 billion) in 2016 as its seeks to bridge a budget shortfall that analysts predict will surpass 14 percent of output for a second year.
"International banks have reduced liquidity to local banks on concerns over Saudi Arabia's fiscal position," said Monica Malik, the chief economist at Abu Dhabi Commercial Bank PJSC. "The onshore market also reflects a greater confidence on the sustainability of the riyal's peg to the dollar."
Speculative Trades
One-year forwards hit a record 1,000 on Jan. 12, the highest in about two decades, as oil neared 12-year lows. As crude's rebound since then eased pressure on global energy exporters, forwards dropped by more than half. Onshore contracts were unchanged at 4:56 p.m. in Dubai on Wednesday at 320 points, while the offshore contracts climbed 10 points to 540.
For a guide of how to use Saudi forwards to monitor sentiment around the peg, click here.
"The offshore riyal forward rate is used mostly by international investors as a speculative trade, while local forward rates are lower as domestic investors have daily market activities which will facilitate selling forwards as well as buying," Malik said.
Before it's here, it's on the Bloomberg Terminal.
LEARN MORE