Sanders Criticizes Clinton Wall Street Ties in California Fight
Terrence Dopp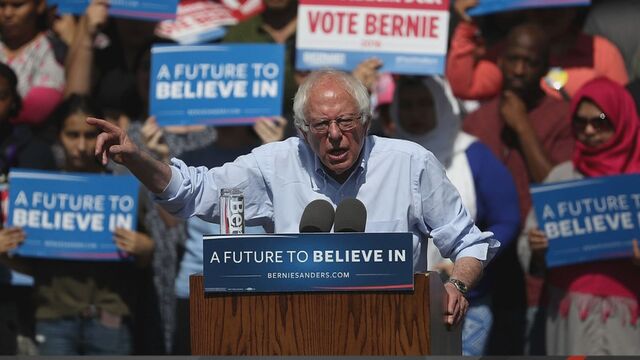 U.S. Senator Bernie Sanders renewed his criticism of Democratic front-runner Hillary Clinton's ties to Wall Street, as the fight for California's 475 delegates intensified ahead of the state's June 7 primary.
Speaking in San Bernardino on Tuesday, Sanders faulted Clinton for having multiple super-political action committees and taking money from Wall Street and other wealthy donors. Sanders has said he's the only major-party presidential candidate without such a committee and that he's better positioned to take on presumptive Republican nominee Donald Trump.
"She has not one, but several super-PACs and has raised tens of millions of dollars from Wall Street and other special interests," he said during the rally. "You can't take their money and take them on."
Sanders, a Vermont senator, has built his candidacy around changing what he calls a "rigged economy" that has pushed income inequality to its greatest level in more than eight decades.
Clinton, the former secretary of state, has 2,305 delegates to 1,539 for Sanders, with 2,383 needed to secure the nomination, according to tallies by the Associated Press that include superdelegates -- party leaders and elected officials not formally bound to any candidate. Sanders in recent weeks has said superdelegates should consider backing him because he'd beat Trump.