New Airport Screening Process May Cut Wait Time at Security Line
By
Atlanta fliers test system that moves bins to X-rays faster

TSA says technology aims to eliminate single-file bottlenecks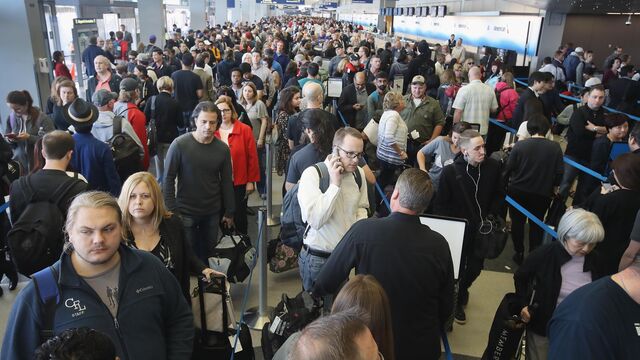 The nation's beleaguered U.S. airport security agency unveiled a new screening process aimed at cutting long waits at security lines.
New roller systems being tested at Atlanta's airport enable more passengers to put their personal belongings in bins at the same time. The fliers then step over for body screening while the containers are fed automatically into the X-ray machines, eliminating the single-file bottlenecks of people waiting to manually push along their items. The bins are 25 percent bigger, which also reduces waiting time.
The Transportation Security Administration has faced heavy criticism in recent weeks for lengthy waits that have caused thousands of passengers to miss flights and led to the ouster of the agency's security chief. The agency will take what it learns in the limited Atlanta test and export it around the country, TSA regional spokesman Mark Howell said.
"This is really Page 1 of what we call the future of the TSA," Howell said at a gathering at Hartsfield-Jackson Atlanta International Airport.
The expectation is that the new technology can boost efficiency by 25 percent to 30 percent, he said. He warned that doesn't mean wait time will be cut by that much because the system won't help with long lines at other spots in the process, such as the checking of documents.
Delta Contribution
Delta Air Lines Inc. contributed almost $1 million to researching and helping TSA implement the new system, which also includes radio frequency identification technology to match bins with their passengers as they move along. The containers are automatically moved back to the front of the line, eliminating the need for employees to do the task.
To learn what else airlines are doing to combat long lines, click here.
The idea is to enable single passengers or those with few personal belongings to bypass a family of four who may be holding up the line.
"If I'm a little bit faster, that allows me to put my items on the belt and move along in the process," said Jill Vaughan, the agency's chief technology officer.
Passenger Michael Clark, a 28-year-old worker at a university north of Atlanta who was on his way to Savannah, Georgia, said he looks forward to stepping around novices who clog up the line.
"I hate first-time flyers," Clark said after he went through the line.