Greek Bond Yields Drop Below 7% After Bailout Payment Approved
by
Germany-Italy 10-year yield spread reaches lowest in 3 weeks

Agreement removes threat of a repeat of 2015 turmoil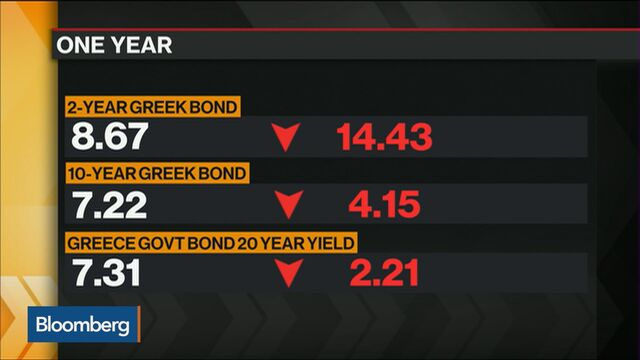 Greece's government bonds advanced, pushing the 10-year yield below 7 percent for the first time since November, after its creditors agreed to release aid and committed to ease the nation's debt.
The yield on Greek notes maturing in July 2017 also slid to a six-month low. At a meeting of euro-area finance ministers in Brussels Tuesday, the country won the disbursement of 10.3 billion euros ($11.5 billion) of aid. German bonds declined relative to higher-yielding peers as the agreement helped underpin demand for riskier assets.

While details on potential debt forgiveness for Greece were left unresolved, the accord helps the region avoid a repeat of last summer's drama in which disagreements with creditors almost led to Greece being pushed out of the currency bloc. It also means Greece won't be weighing on market sentiment as the British referendum on European Union membership and Spain's election approach next month, and investors prepare for a potential increase in U.S. interest rates.
"It's positive for the broader periphery as well," said Orlando Green, a rates strategist at Credit Agricole SA's corporate and investment-banking unit in London. "The feeling so far has been one of fear more than hope. It's one problem we don't have to deal with in the short term."
Yields Slide
Greece's 10-year bond yields fell six basis points, or 0.06 percentage point, to 7.17 percent as of 4:10 p.m. London time and earlier touched 6.98 percent. The 3 percent security due in February 2026 rose 0.335, or 3.35 euros per 1,000-euro face amount, to 75.73. The yield climbed above 19 percent in July 2015, having reached 44.21 percent in March 2012 at the height of the region's debt crisis.
The yield on the nation's notes due in July 2017 dropped 79 basis points to 7.50 percent, and earlier fell to as low as 6.62 percent.
Seven percent was seen as a psychologically important level during Europe's debt crisis, after 10-year yields above that level forced Greece, Ireland and Portugal to seek sovereign bailouts.
The deal paves the way for Greek banks to access regular financing lines at the European Central Bank as early as next week, allowing them to stop relying on expensive short-term emergency funding that lenders have been using since February 2015. Completion of the bailout review was also a condition for the inclusion of Greek government securities in the ECB's bond-buying program.
Limited Trading
Still, trading in Greek government debt remains limited. The turnover through the central bank's electronic secondary securities market, or HDAT, totaled 30 million euros this month through May 20, according to data from the Bank of Greece. The volume across all maturities was 41 million euros last month. It peaked at 136 billion euros in September 2004.
Benchmark German 10-year bund yields dropped three basis points to 0.15 percent Wednesday, while those on similar-maturity Italian debt fell seven basis points to 1.36 percent. The yield difference, or spread, narrowed to 119 basis points, the lowest since May 3.
"The situation is far from resolved," said Ciaran O'Hagan, head of European rates strategy at Societe Generale SA in Paris. "It's certain that Greece is going to come back looking for more concessions. It remains a very difficult situation because Greece has got very little incentive to play ball with the euro area."
Before it's here, it's on the Bloomberg Terminal.
LEARN MORE