German Military Ambitions Hampered by Airbus Delay
by , , and
Defense minister weighing transport aircraft from competitors

Airbus CEO says technical problems present 'serious challenge'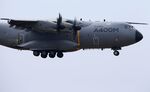 German Defense Minister Ursula von der Leyen's effort to expand the country's military role in global trouble spots is being hampered by delivery delays with the Airbus Group SE's A400M transport plane, prompting the minister to consider other options.
Von der Leyen, who this month announced plans to expand German troop strength for the first time since the end of the Cold War, is looking at leasing or even buying aircraft from competitors to meet the country's needs, said a senior ministry official who asked not to be identified discussing private deliberations. The ministry has asked Airbus to outline the problems with the A400M and the length of time each fix will take, said Jens Flosdorff, her chief spokesman.
"Until then we are of course checking all alternative scenarios," Flosdorff said. "The contracts clearly say that Airbus would have to pay compensations for such delays."
The country, the largest customer for the aircraft, has thus far received just three planes, and a schedule that called for the country to receive nine in 2016 is in question amid technical problems including fuselage cracks and faulty engine gearboxes. The A400M -- first ordered by Germany, six other European nations and Turkey back in 2003 -- is already more than four years late and 5 billion euros ($5.57 billion) over budget. Germany currently relies on more than 40-year-old planes to meet its needs.
Mission Critical
The country's biggest foreign engagements at the moment are in Afghanistan with 950 soldiers, in Kosovo with 664 and Mali with 312, and being able to swiftly move troops and heavy equipment is critical for such missions. While Germany still has a fleet of Lockheed-built Transalls, or C160s, the planes, developed in the 1960s, are old and expensive to repair. The three A400Ms it does have are still unable to meet military requirements such as refueling helicopters or returning fire when under attack.
"It becomes clearer every day that we will definitely need a temporary solution," Hans-Peter Bartels, Germany's parliamentary commissioner for the armed forces, said in an interview.
Terrorism in European capitals and a refugee crisis spurred by conflicts in North Africa and the Middle East are putting pressure on Chancellor Angela Merkel's government to lessen post-World War II military restraint and take a more active role in stemming turmoil. The Defense Ministry decided this month to scrap the military's upper limit of 185,000 military personnel, adding 14,400 soldiers as well as 4,400 civilian employees over the next seven years.
Needed Fixes
Airbus is grappling with two sets of technical issues with the A400M: cracking in some of the center fuselage panels where the wing attaches to the body of the plane and faulty engine gearboxes that will need fixing and eventual replacement.
Taxpayers have already come to Airbus's rescue once. Germany, France, the U.K. and four other countries agreed in 2010 to pay 25 billion euros instead of 20 billion euros for planes on order. This time it will likely be Airbus and subcontractors bearing the brunt, with Airbus indicating it may have further charges later in the year. Chief Executive Officer Tom Enders, who once said the plane risked becoming "mission impossible" due to cost overruns, said last month the latest issues present a "serious challenge."
The A400M was first conceived by a group of European nations eager to escape reliance on the U.S. The result was the largest pan-European military project ever conceived, involving an initial contract for 180 planes. Germany may now end up turning back to the U.S., with Lockheed Martin Corp.'s C130J Hercules one likely alternative to either lease or buy. The problem is the aircraft is only about half the size.
Dramatic Shortage
Germany wouldn't be the first A400M customer to shop elsewhere. The U.K. in 2008 leased four C-17 military transport from Boeing Co., planes twice the size and cost of A400Ms, and has since purchased the planes. France last year ordered four of the C130Js.
Germany's support mission for Kurdish forces fighting Islamic State in Iraq offers an example of the dramatic shortage in airlift capability. In September 2014, the Bundeswehr needed six days and four Transall planes, after the first three broke down, to transport anti-tank systems and guns to the fighters. In Mali, Transall planes have to take over cargo in Gao and fly it to the conflict zone in Bamako because the A400Ms still lack a defense system.
"Air transport gives the soldiers a feeling of security," Bartels said. "If the German army already runs into problems when it has to change its contingents, nobody wants to think about a scenario where urgent air transport would be needed."
Before it's here, it's on the Bloomberg Terminal.
LEARN MORE