French Strikes Joined by EDF as Valls Defends Labor Reform
by and
PM Valls Says he's open to modifications, not to scrapping law

Unions split over protest as business warns of slowdown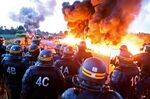 Some Electricite de France workers joined strikes at oil refineries, cutting power output, as the government vowed not to back down revising a labor law and businesses warned of economic damage if the protests continued.
"What are the alternatives - a withdrawal of the text? That's impossible," Prime Minister Manuel Valls said Thursday on RMC radio. "Modifications" and "improvements" could be considered, though the key article that shifts negotiations from the sector to the company level can't be changed, he added. Later, he said during debate in the Senate that it's "unacceptable" for protesters to "block a country and harm the economic interests of France."
The protests have led to gasoline shortages across the country and confrontation between police and militants in the CGT union at refineries and fuel depots as the government pushes aside strikers to ensure the distribution of fuel supplies.
"The CGT does not makes the law in this country," Valls said. "There will be no retreat on the law, no putting into question of article 2, which is the core of the law."
After earlier protests, President Francois Hollande's government in March watered down elements of the bill, such as scrapping limits on severance pay, and then used a special decree to ram it through parliament without debate.
Disruptions
The government said late Thursday that 30 percent of the country's 12,200 gas stations were facing shortages. France has used three days of emergency reserves out of 115 days worth of supply, according to Alain Vidalies, the transport minister, who added that that demand is three times normal levels because of panic buying.
"There's no risk to run out" of fuel, Vidalies said on Europe 1 radio Thursday, explaining that the problem isn't supply but delivery. The situation remains "tight" in Paris and on the French Riviera, while it has improved in Western and Northern France, he said. The government says that it's unblocked 13 fuel depots and will continue to do so if needed.
While French electricity demand is forecast to peak at 49,200 megawatts Thursday, walkouts at Electricite de France SA, France's largest power company, have reduced nuclear power output by 5,240 megawatts, according to Bloomberg calculations based on data provided by grid operator RTE. Vidalies said on Europe1 Thursday morning that France could import power to make up the difference.
The state railroad said that three out of four long-distance high-speed trains will run, as will two of three Paris-region suburban trains. Orly airport said 15 percent of flights have been canceled and delays are expected at Charles de Gaulle airport. Paris transport workers are due to strike next week. On June 14 a major union demonstration is planned in Paris.
Eurotunnel service to London and Thalys trains to Brussels have so far been spared any disruptions.
Unions opposed to the law held a march through Paris today that police said attracted about 19,000 people. The unions plan another march on June 14.
France's main business and agricultural organizations issued a joint statement Wednesday saying that "the transport strikes and the difficulties in obtaining fuel are beginning to impact economic activity in this country. Some companies are having to slow their activity, the most fragile ones see their survival threatened."
The CGPME, which represents small and medium-sized companies, said that 58 percent of its members are having trouble making deliveries and 47 percent are having trouble getting supplied.
Unions Divided
The protests have split France's unions. The CGT, which grew out of the Communist Party and is the largest union in terms of votes received during elections for work representatives, has been leading this week's strikes and wants the entire Labor Law scrapped.
The CFDT, France's largest union by membership -- which grew out of Catholic labor movements -- supports the labor law in its current watered down version. "I hope they don't touch it any more," CFDT President Laurent Berger said Thursday on France Info.
"The CFE-CGC denounces the taking of France hostage," the CFE-CGC, which represents white collar workers, said in a statement posted on its website. It said it "calls on union protesters who are blocking our country to lift their blockades and barricades."
The third largest union, Force Ouvriere, supports the CGT. "It's Valls' refusal to budge or to negotiate that's causing the conflict," FO leader Jean-Claude Mailly said in an interview with BFM television. "One must not confuse authority with authoritarianism."
Before it's here, it's on the Bloomberg Terminal.
LEARN MORE