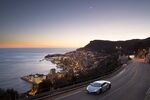 Driving in the South of France, with all those curves and climbs, requires something with power, prestige, and a lot of attitude. So when I went for a spin around Monaco, the tiny, glittery city-state on the French Riviera, I chose to pilot a Lamborghini, the ideal car for navigating the area's 31 miles of urban roads. Take your own tour in a Lamborghini Huracán (pictured above, $237,000), a coupe capable of 200 mph but tuned for both town and country. A toggle switch on the center console raises the car upward, better to accommodate the uneven streets near the Mediterranean Sea.
Start by circling the driveway in front of the Casino de Monte-Carlo, which is across the street from the belle epoque architectural gem Hôtel de Paris. Beware of the hairpin turn at the Fairmont, then accelerate through the tunnel straightaway before emerging into the harbor via Route de la Piscine.
Push upward to the tree-lined hills on the Rue des Roses and onto the well-worn streets of Bretelle du Centre before winding along the stone escarpments of the Maritime Alps above the sea. Follow the A10 toward Lamborghini's ancestral home, 270 miles away in Sant'Agata Bolognese, Italy. Once there, tour the factory where every series-produced model has been made ($17).
This time of year is ideal for the journey. Temperatures tend to hover in the mid-60s, with a bright sea sun. The Monaco Grand Prix (from $1,305 for VIP passes), which runs from May 26–29, is Formula One's crown jewel. And the extraordinary Historic Monaco Grand Prix (from $1,760 for weekend passes), May 13-15, pits classic F1 cars such as the Ferrari 312B, which raced in the 1970s, against others of its era. Each model is driven by a former champion in a white racing suit, a spectacle that recalls the halcyon days of performance driving.
Before it's here, it's on the Bloomberg Terminal.
LEARN MORE