Communist Vietnam Swoons as Selfies Showcase Bout of Obama Mania
By , , and
Third-sitting president to visit since war's end draws crowds

Obama outshines one-party Communist leaders during visit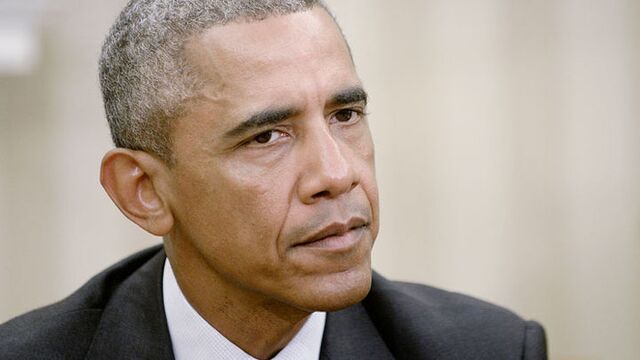 Ordinary Vietnamese waited for hours to glimpse U.S. President Barack Obama barrel past in a motorcade. Communist Party officials posed for selfies with him. A female artist rapped for him and a young man began a question to him by saying "Mr. President, you're so handsome."
Obama's three-day trip to Vietnam, the third by a sitting president since the war between the countries ended four decades ago, drew to a close Wednesday. In Ho Chi Minh City, a relaxed president in his shirt-sleeves chatted with an auditorium full of young people about everything from his childhood to his future, giving local officials a lesson in winning hearts and minds.

"There was a kind of religious admiration," said Vu Tu Thanh, chief Vietnam representative of the U.S.-Asean Business Council, who attended a speech Obama gave in Hanoi. "So many Vietnamese are hungry for that. His ability to connect with every single person in a room filed with 2,000 people -- that was amazing for Vietnamese."
In a country where leaders are often party-appointed and whose stiff and scripted appearances can suggest a disconnect from the public, Obama spoke off-the-cuff, responding to questions that included one on whether social media reports of him having smoked marijuana as a youth were true.
'Very Friendly'
The contrast was most noticeable during official meetings. At the presidential palace, Obama smiled warmly and pumped President Tran Dai Quang's hand, while Quang stood rigid and unsmiling. At a joint briefing, Obama made eye contact with each reporter as they asked a question. Quang stared elsewhere when he spoke.

"I wish we could have a leader like Obama," said Nguyen Thi Ngoc Anh, 24, who served Obama and food critic Anthony Bourdain in a Hanoi noodle restaurant on Monday night. "He was very friendly, casual and approachable -- unlike what I see from our country's leadership."

Throngs of people lined Obama's motorcade route in both Vietnamese cities he visited. They held smartphones aloft and waited on mopeds, cheering and waving as he passed by.
Favorable View
Working in Obama's favor is a growing affection for the U.S.: 78 percent of Vietnamese hold a positive view of America, according to a spring 2015 poll by the Pew Research Center. Obama used his visit to end a long-held U.S. ban on sales of lethal weapons and to offer reassurances that a U.S.-led Pacific trade pact that includes Vietnam would be passed by Congress this year.
"The U.S. is a country that offers people a lot of opportunities, where people enjoy equal opportunities and where human rights are taken care of compared with other countries," said Le Quang Dung, a local teacher in Ho Chi Minh City. "I waited for his arrival for more than three hours but that was not long at all since the guest is very special."
When President Xi Jinping visited Vietnam in November, police forcibly broke up a protest against the Chinese leader. While China accounts for about one-fifth of Vietnam's total trade, only 19 percent of Vietnamese hold favorable views of the country. Riots erupted in 2014 after China placed an oil rig in a disputed area of the South China Sea.
Human Rights
Still, Vietnam and the U.S. remain far apart on issues related to human rights. Hanoi's leaders also continue to feel the pull of their bigger Communist neighbor, and the need for productive ties with China. And while some Vietnamese citizens may long for a government similar to the U.S. system, their leaders have shown no inclination of relaxing the party's control over society.
Vietnamese leaders -- at least some -- are sure to have noted Obama's meet-and-greet political style and understand the need to emulate it, said Nguyen Xuan Thanh, a Ho Chi Minh City-based senior fellow at the Harvard Kennedy School of Government.
"Some of them may now lead Vietnam in a different way, respond better to the feelings and the needs of the people," he said.
While Obama's charisma was a big draw -- he quoted from Vietnamese literature and referenced the country's long history -- Vietnamese also like McDonald's Corp. hamburgers and Apple Inc. iPhones, he said.
"It's young people, old people, men, women, government officials," Thanh said. "We look to the U.S. -- we can be like that. President Obama represents the kind of values the Vietnamese people really love. So from the day he touched down, they just went crazy."