China Turns From Foe to Friend in the Fed's Quest to Raise Rates
Beijing's focus on stability probably brings a smile to Janet Yellen's face.
By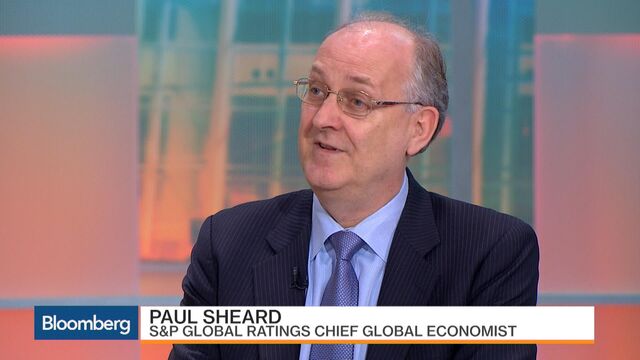 China's emphasis on stability looks to be lending support to the Federal Reserve's efforts to normalize monetary policy, in stark contrast to the financial volatility the world's second-largest economy sparked in summer 2015.
The minutes of the central bank's April meeting revealed that most participants saw a rate increase in June as likely if the U.S. economy continues to improve. The odds of a rate hike in June or July implied by federal funds futures proceeded to soar as markets digested the communiqué.
But it's not only U.S. economic data that will dictate whether Fed Chair Janet Yellen and her colleagues determine it's appropriate to raise rates. Financial markets need to remain intact, too.
"I worry that the turbulence we saw in January and February was not a one-time event but we could get more 'January and Februarys' as we move closer to the next Fed rate hike," writes Deutsche Bank AG Chief International Economist Torsten Slok.
Enter China.
Last August, China shocked the world with a depreciation of the yuan, one that served as the impetus for a rapid sell-off in global equities. Expectations of an imminent rate hike from the Fed, which had been on the rise, cratered along with markets.
This chaos and ensuing uncertainty over the state of the world's second largest economy undermined the case for a rate hike from the Fed in September, pushing its initiation of a tightening cycle off to December. This episode presumably serves as evidence for the idea that the Fed can be boxed in from hiking rates by any sign of calamity in markets such as the kind instigated by China last summer.
Thus far, however, there hasn't been as much of a policy response from Beijing as the implied odds of a rate increase move higher.
Tuesday's decision to fix the yuan at its weakest level vs. the U.S. dollar since March 2011 has yet to inspire much in the way of panic, nor have options markets flared up to price in extreme volatility in the currency in the near future. 
Based on market exchange rates, the yuan is still stronger against the greenback than it was in January. 
The Wall Street Journal's Lingling Wei chronicled how China's policymakers have reportedly brought the exchange rate "back under tight government control," seemingly going back on past commitments to let the market have a larger say in determining the currency's proper value.
This micromanaged currency policy, however, belies hints that Chinese policymakers want "to give currency peace a chance if it can manage it," asserted Citigroup Inc. Head of G10 FX Strategy Steven Englander.
Englander noted that Asian currencies experienced far greater declines relative to the U.S. dollar last summer and around the time of liftoff than they have during May.

It's important for Asian currencies to remain relatively resilient as the Fed steels markets for another hike, Englander reasoned, because a brisk depreciation would probably be associated with more widespread risk aversion and a drop-off in stocks. The darkening of the U.S. economic outlook in light of this tightening of financial conditions could prevent the central bank from actually withdrawing monetary stimulus—a play we've seen before.
"If we take the China response in the currency off the table, the risk of a 15 percent correction drops markedly," added Jefferies LLC Chief Market Strategist David Zervos in an e-mail on Tuesday. "[The] market is repricing that today."
Whether this stability is due in part to intentional action on the part of Chinese policymakers or, like the so-called Shanghai Accord, is more a happy coincidence, it appears to be a boon for the Fed and the world's second-largest economy.
China stands to gain in the event that risk assets—and in particular, emerging markets—hold up well as expectations of a rate hike mount, even though most experts claim that its yuan is overvalued.
That's because the yuan fell by less than other Asian currencies did amid periods of risk aversion associated with an increase in the implied odds of U.S. rate hike (or the realization of such), and has tended to underperform those peers in the relief rallies that have followed.
China "gained more competitiveness ground during risk on periods, when emerging markets [excluding] China appreciation far exceeded any [Chinese yuan] move," wrote Englander. "There is no guarantee of success but acting to stabilize asset markets may be seen as worth a try since they gain little from adding asset market volatility in an already fragile economic and financial market environment."
Like the rest of us, Chinese policymakers are interested in the timing of the Fed's next rate increase. Just as we do, they have an opinion on when it should occur.
But whether it's by design or chance, for economic or political ends, the fact that Chinese financial markets have retained a semblance of relative calm makes it easier for Janet Yellen and her colleagues to deliver on a rate hike if domestic economic activity continues to firm—and if financial markets continue to take such overtures in stride.
"Whether [Chinese policymakers] succeed or not depends on 1) the degree to which investors and policy authorities respond to the signal by avoiding wholesale emerging market selling and 2) whether there is a fundamental emerging market vulnerability to even modest Fed tightening that is inescapable," concluded Englander. "If emerging markets simply can't deal with another 25 basis points of policy hikes, it will not matter whether China is trying to stabilize or not."