China Says It Has Conquered Commodities Trading Frenzy
Bloomberg News
CSRC Vice Chairman Fang says measures had 'noticeable effect'

There's 'chance of a lifetime' to become global center: Fang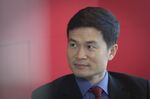 China's leading market regulator said that its clampdown on speculation in raw materials futures has successfully reined in the frenzy, and pledged to beef up oversight as the country seeks to dislodge rivals and become the global center for commodities pricing.
QuickTake China's Market Meddling
"Recently, we experienced huge volatility and trading volumes in some commodity futures," Fang Xinghai, vice chairman of China Securities Regulatory Commission, said at the Shanghai Futures Exchange's annual conference in the city on Wednesday. "We supervised the exchanges to take measures, which have seen a notable effect."
Raw-material markets in Asia's top economy were seized by a speculative frenzy in March and April that spurred a rapid run-up in prices and unprecedented volumes. The outburst prompted a crackdown from the CSRC and exchanges, which tightened rules and raised fees to discourage the surge amid concern it was excessive and could jeopardize efforts to cut back excess industrial capacity. For China to now expand its role as a global pricing center, effective supervision is critical, according to Fang.
'Chance of a Lifetime'
"We're facing a chance of a lifetime to become a global pricing center for commodities," Fang told the audience in China's commercial capital. "On the way to realize this goal, we'll see very intense competition. We have the advantage of trading size and economic growth, but our legislation is still not sound and we lack enough talent."
China is the world's largest user of metals and energy, but its traders and companies rely on financial centers outside the country to set benchmark prices for the commodities they handle and consume. While raw materials trading in the nation remains largely off-limits to overseas investors, who also face currency restrictions, China has long pledged to open up.
"We plan to use crude oil, iron ore and natural-rubber futures as the starting point in our efforts to open the domestic market to more foreign investors," said Fang. "To become global pricing centers for commodities, we need appropriate and effective supervision measures."
He added: "According to our experience, the challenge for supervisors is not systematic financial risks from bringing in foreign participants, but rather the challenge is to prevent non-compliant trading by individuals with technical advantages."
— With assistance by Winnie Zhu, and Jing Yang
Before it's here, it's on the Bloomberg Terminal.
LEARN MORE