Chevron, Shell Said Among Bidders to Operate Qatar Oil Field
by
Total, Conoco, Maersk also said to bid for Al-Shaheen rights

Qatar Petroleum to decide on partner for field this year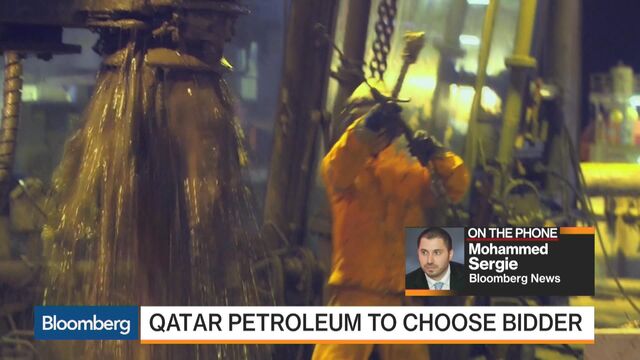 Chevron Corp., Royal Dutch Shell Plc, Total SA, ConocoPhillips and Maersk Oil Qatar submitted bids to operate Qatar's biggest offshore oil field, according to two people with knowledge of the matter.
Qatar Petroleum received proposals from the five oil companies to enter a production sharing agreement to manage the Al-Shaheen field, which currently produces 300,000 barrels a day, said the people, who asked not to be identified because the matter is private. State-run Qatar Petroleum will choose an operator this year, they said.
Qatar, the world's biggest exporter of liquefied natural gas, has faced declining crude production for several years and is committed to prolonging output at current levels rather than trying to boost production, according to risk consultants Eurasia Group. Al-Shaheen accounts for about half of Qatar's daily crude output and the same share for Maersk, the field's current operator. Losing rights to the field would be a "severe blow" for Maersk, said Robin Mills, chief executive officer of consultants Qamar Energy.
'Good Operator'
"Big assets like this in the Middle East only come on the block quite rarely," the Dubai-based Mills said Thursday by phone. "Qatar is looking for enhanced oil-recovery experience, and applying that economically at the moment would be challenging. It will take a good operator to be able to do that."
Officials at Total and Qatar Petroleum didn't respond to requests for comment. Chevron, Shell and Conoco declined to comment, while Maersk referred a request to Qatar Petroleum.
Maersk Oil Qatar, a unit of Copenhagen-based AP Moeller-Maersk A/S, has developed and managed the Persian Gulf field since 1992. Its agreement with Qatar Petroleum ends in mid-2017. Even if Maersk Oil is selected again, Qatar Petroleum will probably take a majority stake of as much as 70 percent, plus a bigger share of the field's output, Mills said. "Terms will be tougher" than when Maersk's contract began, he said.
With its main operations in the North Sea and Qatar, Maersk Oil reported a net operating loss after tax of $29 million in the first quarter, compared with a profit of $208 million a year earlier. The company has no plan to "do something dramatic on the M&A activity to replace volume" if it loses Al-Shaheen, Nils Smedegaard Andersen, the chief executive officer, said in an earnings call on May 4.
Qatar, the third-smallest oil producer in the Organization of Petroleum Exporting Countries, pumped 670,000 barrels of oil a day in April, data compiled by Bloomberg show. Sales of oil and LNG have made the Persian Gulf state of 2.5 million people the world's richest per capita by purchasing power parity, according to the World Bank.
Before it's here, it's on the Bloomberg Terminal.
LEARN MORE