Canada Holds Key Rate Steady, Sees Rebound From Wildfires
Greg Quinn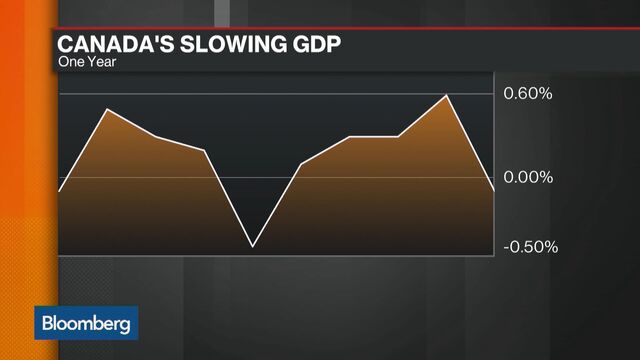 The Bank of Canada kept its key interest rate unchanged, signaling the damage from Alberta wildfires that cut oil production will be temporary.
Policy makers led by Governor Stephen Poloz held the benchmark overnight rate at 0.5 percent, where it's been since July, as expected by all 27 economists surveyed by Bloomberg. Housing market vulnerabilities have moved higher, while business investment and intentions for new spending remain disappointing, the bank said.
Canada's economy is struggling, and recent signs of a slowdown include a record trade deficit, stalled job growth and declining retail sales. Alberta wildfires -- which have knocked about a million barrels of oil a day offline -- aren't helping. Still, the central bank said the economy should rebound in the third quarter from the temporary dislocation, and highlighted solid growth in the U.S. and stronger oil prices.
"They provided the update that people were looking for," said Krishen Rangasamy, senior economist at National Bank Financial in Montreal. "The hit to 2016 growth isn't going to be significant. In our view, it's not a reason for the Bank of Canada to change its stance for now."
Wildfires that have hampered Alberta's oil production and forced the evacuation of thousands of people will knock 1.25 percentage points off real gross domestic product in the second quarter, policy makers said. In effect that means it will probably shrink by 0.25 percent, since the bank's April forecast was for a second-quarter expansion of 1 percent.
'Structural Adjustment'
The economy should rebound in the third quarter, as oil production resumes and reconstruction begins, policy makers said. The next quarterly forecasts are due in July.
"The economy's structural adjustment to the oil price shock continues, but is proving to be uneven," the bank said. The bulk of Wednesday's statement signaled the forces driving the recovery remain in place.
The Ottawa-based Bank of Canada sets interest rates to keep inflation at 2 percent, and it reiterated the overall risks to price outlook "remain roughly balanced," and the "current stance of monetary policy is still appropriate."
"Today's policy statement makes it clear that the bar for any rate move from the Bank of Canada remains high," said Benjamin Reitzes, a senior economist at BMO Capital Markets in Toronto. "It's as neutral as you can get."
(Updates with analyst comment in 4th paragraph.)