business
Bank of Montreal Is Cutting 4% of Workforce in Shift to Mobile
By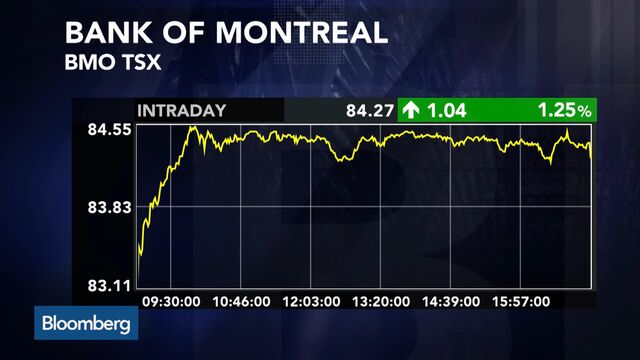 Bank of Montreal, Canada's fourth-largest lender by assets, is cutting about 4 percent of its workforce in a shift toward digital banking, Chief Financial Officer Thomas Flynn said.
That translates to about 1,847 jobs based on the 46,166 full-time positions at the end of April, according to employment totals provided Wednesday by the Toronto-based lender. The companywide cuts are a response to changing customer behavior and the rise of digital technologies, Flynn said in a phone interview.
"Our volumes in digital and mobile and online are growing significantly and, with that change in the marketplace, we need to adapt as a company," Flynn said. ''You're seeing other banks in our industry do that as well."
Bank of Montreal took a C$132 million ($101 million) restructuring charge in the quarter ended April 30 tied to the cuts and technology costs, contributing to a 2.6 percent drop in profit from a year earlier, the bank said in a statement Wednesday. The lender had 616 fewer jobs at the end of April than three months earlier, according to the statement. Some of those cuts are included in the 4 percent, Flynn said.
Canadian lenders including Toronto-Dominion Bank and Bank of Nova Scotia have been paring jobs in the past two years to cut costs, increase efficiency and adapt to changes in the industry as more customers choose to bank by mobile devices rather than at branches.
Scotiabank said May 2 it planned to take a C$275 million restructuring charge in the second quarter to cover job cuts across the firm. Toronto-Dominion cut about 1,600 jobs last year as Chief Executive Officer Bharat Masrani embarked on a companywide restructuring, while Canadian Imperial Bank of Commerce and National Bank of Canada warned in October of looming cuts.
Before it's here, it's on the Bloomberg Terminal.
LEARN MORE