U.S. Stocks Fail to Build on Rally as Brent Pulls Back From $50
By and
Bank shares drop as investors rotate into dividend equities

Currencies of commodity-producing nations dominate dollar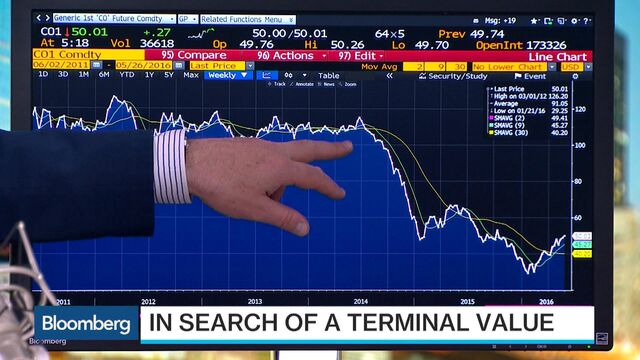 U.S. stocks ended little changed, with the S&P 500 Index failing to surpass a key level as Brent crude erased gains after topping $50 a barrel for the first time in six months. Treasuries rose.
Banks and raw-material producers, which led gains in the S&P 500 Index over the past two days, dragged the benchmark lower Thursday, preventing it from moving beyond the 2,100 level. Investors rotated into high dividend-paying stocks as Treasury yields fell for the first time in three days. Brent, which has soared more than 80 percent from a January low, touched its highest level since November after data showed U.S. inventories oil shrank more than expected last week. The Norwegian krone and Malaysia's ringgit were among the best performers in currencies, as the dollar weakened. Zinc soared.

U.S. equities took a breather following their steepest two-day advance since March, with investors looking to economic reports and crude prices for clues as to whether the world can withstand higher interest rates from the Federal Reserve. Data Thursday provided little clarity, with U.S. jobless claims falling for a second week, pending home sales rising the most since 2010, and orders for business equipment unexpectedly declining for a third month. The focus now shifts to Friday's update on gross domestic product and an appearance by Fed Chair Janet Yellen. Britain's referendum on its membership of the European Union is also looming.
"The market is ahead of itself with this move over the last couple of days in light of the data," said Phil Orlando, who helps oversee $360 billion as chief equity-market strategist at Federated Investors Inc. in New York. "First quarter earnings were terrible and you've got the prospect of a bad Brexit vote a week after the Fed -- there's a whole bunch of stuff that's right in front of us that could go either way."
Stocks
The S&P 500 Index fell less than 0.1 percent to close at 2,090.10 as of 4 p.m. in New York, as financial-share declines were offset by gains in telephone, utility and consumer-staple companies. Goldman Sachs Group Inc. dropped 1.3 percent, while Verizon Communications Inc. and Coca-Cola Co. were among the biggest gainers in the Dow Jones Industrial Average, which marked its 120th anniversary Thursday.
The Stoxx Europe 600 Index added 0.1 percent in a third day of gains. Mining companies posted their biggest three-day jump in three weeks, while European banks fell, with Banco Popular Espanol SA tumbling 26 percent after selling new shares. Spain's benchmark IBEX 35 Index was the biggest decliner among western-European markets, sliding 0.5 percent.
The Borsa Istanbul 100 Index dropped 0.7 percent amid concern Deputy Prime Minister Mehmet Simsek has had his power diminished in a cabinet reshuffle as President Recep Tayyip Erdogan extends control over the government. Simsek is the last man standing in a team of officials credited for orchestrating Turkey's rapid growth years.
Most Asian index futures signaled further gains for Friday, with contracts on stock gauges in Australia, South Korea and Hong Kong rising at least 0.1 percent. Nikkei 225 Stock Average futures added 0.3 percent in Osaka, before slipping 0.3 percent on the Chicago Mercantile Exchange.
Commodities
Brent crude for July settlement decreased 15 cents to $49.59 a barrel in London after earlier reaching $50.51. West Texas Intermediate oil also slipped, falling to 0.2 percent to $49.48 a barrel. Bloomberg's index of commodity returns, however, built on Wednesday's surge, adding another 0.2 percent to its highest level since May 18.
U.S. inventories slid by 4.23 million barrels last week, exceeding an expected drop of 2 million barrels. Attacks in Nigeria have cut production to a 20-year low and Venezuela is struggling to maintain output amid power cuts. Producers in Canada are also beginning to restart oil-sands operations that were halted by wildfires.
"We're seeing a steady decline in U.S. production, which is going to continue, and outages around the world," said Bill O'Grady, chief market strategist at Confluence Investment Management in St. Louis, which oversees $4.3 billion. "This doesn't mean we're going to continue going higher; a lot may be priced in. It was a lot easier being bullish oil with sub-$40 prices than it is near $50."
Zinc jumped 2.3 percent, the most in two weeks, as Brent breaking $50 burnished investor sentiment. Copper advanced 0.2 percent in a third day of gains, while nickel added 0.5 percent.
Gold declined for a seventh day in the spot market, its longest losing streak since November. The precious metals slipped 0.4 percent to $1,219.80 and ounce, its lowest close since April 4.
Currencies
Oil prices supported the Norwegian krone, which rose 1 percent versus the greenback, and the ringgit, which advanced 0.5 percent. The MSCI Emerging Markets Currency Index rose 0.2 percent, led by currencies from commodity-producing countries. 
The Bloomberg Dollar Spot Index, a gauge of the greenback against 10 major peers, declined 0.2 percent, declining for a second day.
A measure of volatility in the pound versus the dollar covering the period when the result of the vote on EU membership will be known jumped to its highest level in six years. The pound weakened versus the euro and dollar on Thursday.
Bonds
Treasuries rose after investor demand at three bond auctions this week climbed to the highest level on record. Yields on the 10-year note fell four basis points, or 0.04 percentage point, to 1.83 percent.
Investors took down 80 percent of the $88 billion in two-, five- and seven-year debt, the most ever at sales of those maturities, according to data compiled by Bloomberg. The demand left the 23 primary dealers, which are obligated to bid at auctions, with the second-lowest amount on record at Thursday's seven-year note sale, after receiving the lowest-ever share at the two auctions earlier this week.
The euro-area's higher-yielding sovereign bonds declined. Spain's 10-year yields rose three basis points to 1.5 percent, having slid 10 basis points the previous two days. Yields on similar-maturity Italian debt rose two basis points to 1.37 percent.
Qatari bonds fell after the government raised $9 billion in a debt sale. Yields on bonds due 2022 rose one basis point to the highest level in almost two months. The nation sold $3.5 billion in five-year notes, the same amount in 10-year bonds and $2 billion of 30-year paper.