Sending Arms to Egypt Fuels Abuses, Amnesty Says
by
Almost half of bloc's 28 states ignoring weapons suspension

Human rights deteriorating in Egypt, Amnesty official says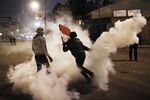 Almost half of the European Union's 28 member countries have ignored an EU-wide suspension of arms transfers to Egypt, risking complicity in the government's crackdown on dissent, according to Amnesty International.
Thirteen EU members remain among Egypt's main suppliers of arms and policing equipment, including France, Germany, Italy and the U.K., the rights group said in a statement on Wednesday. In 2014, EU states authorized 290 licenses worth more than 6 billion euros ($6.7 billion), providing Egypt with light and heavy weapons, military helicopters and surveillance equipment, it said.
The EU agreed to halt arms transfers after security forces in 2013 used lethal force to disperse protesters demonstrating against the military's removal of Muslim Brotherhood-backed Islamist President Mohamed Mursi. The crackdown left hundreds dead and many more in custody.
Since then, "the human rights situation has actually deteriorated," Magdalena Mughrabi, interim deputy director for Amnesty's Mideast and North Africa program, said in the statement.
"Excessive use of force, mass arbitrary arrests, torture, and enforced disappearances having become a part of the security forces' modus operandi," she said. "The EU and its members must stop rewarding bad behavior by Egypt's police and military with a bonanza of arms supplies."
Sinai Fight
The Amnesty report is the latest criticism leveled against the government of President Abdel-Fattah El-Sisi, who as army chief led Mursi's ouster. Rights groups in Egypt have said the government is expanding its crackdown to stifle activists, academics and other critics.
Egyptian officials led by El-Sisi deny systematic abuses occur. The government argues that harsh tactics are sometimes needed to confront the threat posed by an Islamist insurgency focused in the Sinai peninsula but that has also hit security force targets in Cairo.
Before it's here, it's on the Bloomberg Terminal.
LEARN MORE