Is the Fed Stuck in a 'Not So Merry-Go-Round?'
A lack of policy-driven stock moves.
By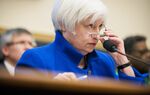 The Federal Reserve warns that it is on the verge of withdrawing monetary stimulus. The U.S. dollar rises; stocks fall. These tighter financial conditions darken the U.S. growth outlook. The Fed subsequently elects to stay on hold in light of the market turmoil. Markets recover as monetary stimulus is maintained, and financial conditions never really tighten persistently. Wash, rinse, repeat.