UniCredit CEO Departure Puts Focus on Bank's Capital Strategy
by
Chairman Giuseppe Vita to lead search for new CEO, bank says

Marco Morelli was approached for the role, person says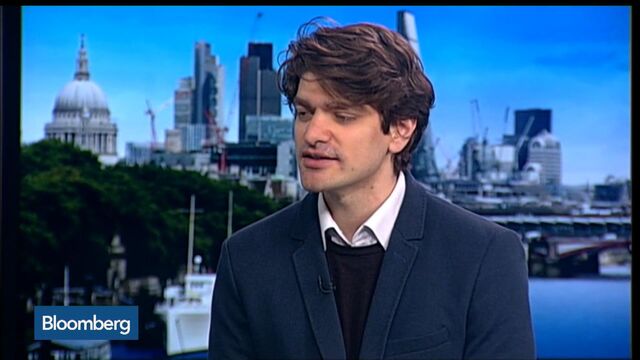 UniCredit SpA's decision to replace Chief Executive Officer Federico Ghizzoni after almost six years at the helm paves the way for a strategy review that may include a capital increase and asset sales, according to analysts.
Ghizzoni will depart once a successor has been chosen, the Milan-based bank said in a statement on Tuesday. Chairman Giuseppe Vita will lead the search for a new CEO.
"UniCredit's next CEO needs to take drastic measures including a capital increase and asset sales as first step," said Massimiliano Romano, head of research at Concentric Italy. Ghizzoni's departure "was an expected step considering that management hasn't been able to address capital and profitability issues."
Ghizzoni's revised strategic plan, unveiled in November, was seen by some investors as not ambitious enough to shake off the bank's status as one of Europe's most poorly capitalized lenders. He has repeatedly ruled out selling shares, instead focusing on improving profit and selling assets as well as lowering costs through job cuts.
UniCredit rose as much as 1.6 percent in Milan trading and was up 0.7 percent at 3.08 euros as of 9:08 a.m. The stock has dropped about 38 percent this year compared with an 17 percent decline in the benchmark Stoxx Europe 600 Banks Price Index. The shares have lost about 75 percent of their value since Ghizzoni took the CEO job in September 2010.
The path ahead for UniCredit includes two options: "raising money or a mix of organic and inorganic measures to strengthen solvency," Ignacio Cerezo, an analyst at UBS Group AG wrote in a note Wednesday. "More incisive action to tackle low returns of some
activities would be welcome" as well as a review of the investment-banking business.
Ghizzoni, 60, led UniCredit through the sovereign debt crisis, regulatory changes and Italy's longest recession since World War II, struggling to bolster returns as mounting soured loans undermined earnings.



His resignation adds to an unprecedented wave of management changes at Europe's biggest banks, battered by a squeeze to margins from negative interest rates and volatile markets. John Cryan replaced Deutsche Bank AG co-CEO Anshu Jain last year, while Credit Suisse Group AG appointed Tidjane Thiam to take over from Brady Dougan. Banco Bilbao Vizcaya Argentaria SA and Barclays Plc also changed their top executives.
In Italy, banks have faced increasing regulatory scrutiny to tackle a 360 billion-euro ($401 billion) bad-loan pile as the economy struggled to emerge from a recession. The country's lenders have been among the hardest hit by a selloff this year, compounded by investor concerns about their capital buffers and ability to boost profitability.
Capital Buffer
Ghizzoni repeatedly ruled out selling shares, instead focusing on improving profit and asset sales. The latest business plan had called for thousands of job cuts and lowered the annual profit target for 2018 to 5.3 billion euros from 6.6 billion euros.
Pressure on the bank's senior management increased after its decision to be the sole underwriter of Banca Popolare di Vicenza SpA 1.5 billion-euro share sale. Investors balked at the initial public offering and the government-orchestrated Atlante fund, which includes a 1 billion-euro investment from UniCredit, stepped in to buy the stock.
UniCredit's common equity Tier 1 ratio, a measure of financial strength, fell to 10.5 percent at the end of March from 10.7 percent three months earlier. The lender is considering the sale of a stake in its online broker FinecoBank SpA and is reviewing its holdings in Poland and Turkey among options to boost capital, people with knowledge of the matter have said.
Possible successors include Marco Morelli, head of Bank of America Corp.'s Italian operations and former chief financial officer of Banca Monte dei Paschi di Siena SpA, who has been approached for the role, according to a person familiar with the talks. UBS Group AG's head of investment banking Andrea Orcel, Deutsche Bank's Italy country head Flavio Valeri and former UniCredit's head of investment banking Jean-Pierre Mustier are also cited as possible successors to Ghizzoni, according to media reports.
Ghizzoni started his career in 1980 at Credito Italiano's Piacenza branch. In the 1990s, he served as deputy general manager of the London office and later ran the Singapore office. He was chosen to head UniCredit's Polish unit, Warsaw-based Bank Pekao SA, in 2000, and in 2003 was put in charge of the joint-venture that controls Turkey's biggest bank, Yapi Kredi SA. In July 2007, he was appointed head of CEE Banking Operations and became Deputy CEO in August 2010, two months before taking the top job.
"An external candidate seems to be the most likely option," Azzurra Guelfi an analyst at Citigroup Inc., wrote in a report on Wednesday. "One key factor to consider in order to assess restructuring potential will be the CEO mandate scope and powers."
Before it's here, it's on the Bloomberg Terminal.
LEARN MORE