Simsek Survives Power Shift in Turkey, Retains Deputy PM Job
by
Deputy PM is last member of team credited with growth years

New ruling party chief Yildirim announces cabinet in Ankara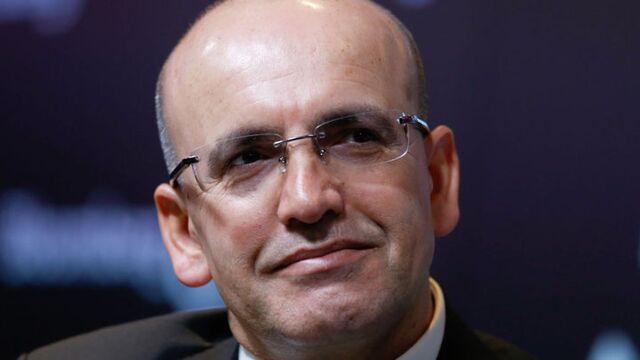 Mehmet Simsek, the sole survivor from a group of Turkish officials credited with orchestrating a period of rapid growth, kept his job as deputy prime minister in the new government. The lira gained.
QuickTake Turkey's Continental Divide
The former Merrill Lynch strategist looked set to remain in charge of the $720 billion economy in the new cabinet announced by Prime Minister Binali Yildirim, an ally of President Recep Tayyip Erdogan, who was elected chairman of the AK Party. Parliament is expected to approve the cabinet this week.

Simsek was central to the unspoken truce between President Recep Tayyip Erdogan and investors, who tolerated the president's quest for more power as long as people trusted by the markets ran the economy. But while Simsek is respected by investors for his defense of orthodox economic views, his influence is probably already in decline, Barclays analyst Durukal Gun said in an e-mailed report May 20.
"Simsek's presence or absence would have a limited effect on the bigger picture, i.e. transition to Erdoganomics," Gun said, referring to Erdogan's push for interest-rate cuts as a cure for inflation. "President Erdogan and his advisory team have already been exerting significant influence on the design and execution of policy making."
With the exception of Simsek, Erdogan has removed all of the key ruling policy makers whose focus on balancing budgets, taming inflation and fiscal stability led to average growth of 5 percent over 13 years to 2015.
Yildirim was elected party chief at an emergency convention called by outgoing Prime Minister Ahmet Davutoglu, who decided to resign after failing to assert his authority against Erdogan. Turkish assets slumped after Davutoglu's announcement, as investors worried about the excessive concentration of power under an increasingly autocratic president and speculation mounted that economic heavyweights may lose their jobs.
The lira erased earlier losses after the cabinet announcement and was trading 1.6 percent higher at 2.9475 per dollar at 5:37 p.m. in Istanbul.
Before it's here, it's on the Bloomberg Terminal.
LEARN MORE