The Bank of England Tried To Ignore Brexit, Now the U.K. Treasury's Ignoring the BOE
Ignoring the bit that makes forecasting difficult is becoming more popular
by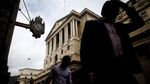 Forecasters for the Bank of England revealed in their most recent Inflation Report that they had created an alternative sterling exchange rate—the ExBrex rate—for calculating medium-term inflation. This rate attempts to control for the effects of referendum uncertainty on the British pound since November of last year.
While the Bank of England's move may seem unusual, it was surpassed yesterday by the U.K. Treasury. In forecasting the damage a vote to leave the EU might have on the economy, it decided to ignore the existence of the Bank of England altogether.
Dan Hanson, U.K. economist at Bloomberg Intelligence, who pointed out this oddity in a note, said that he found it "difficult to reconcile the Treasury's forecast that the Bank of England would not react at all to Brexit with how vocal the bank's been on the risks posed by the issue."

Unlike the Treasury's, Bloomberg Intelligence's Brexit scenario, which does take into account a policy response from bank, predicts that the economy would avoid a technical recession in the event of a vote to leave.
Before it's here, it's on the Bloomberg Terminal.
LEARN MORE