BSI Shut by Singapore as Swiss Start Probe; EFG Takes Over Bank
by
CEO Stefano Coduri resigns as EFG says BSI takeover to proceed

Enforcement proceedings to start against two former bankers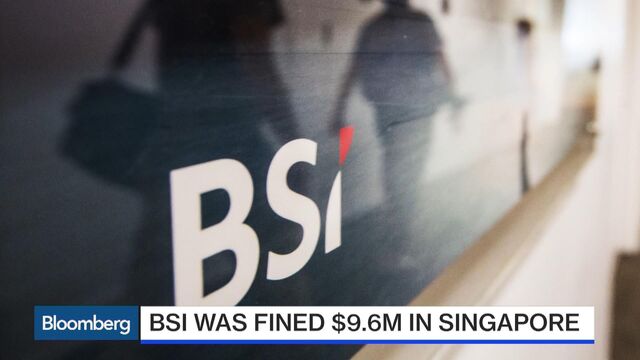 Singapore is closing Swiss bank BSI SA's unit in the city-state and Switzerland began criminal proceedings against the firm, as investigations into a troubled Malaysian state fund reverberate throughout the private bank's international operations.
The Monetary Authority of Singapore said it will withdraw BSI Bank Ltd.'s license for breaches of money laundering rules and impose S$13.3 million ($9.6 million) in financial penalties on the BSI unit for 41 breaches, including its failure to conduct due diligence on high-risk accounts and monitor suspicious customer transactions. Singapore authorities have also referred six senior BSI executives to the public prosecutor, including the private bank's former chief executive officer in the city state and his deputy.
"BSI Bank is the worst case of control lapses and gross misconduct that we have seen in the Singapore financial sector," Ravi Menon, managing director of MAS, said in the statement. "It is a stark reminder to all financial institutions to take their anti-money laundering responsibilities seriously."
Singapore's move -- the first time the city-state has withdrawn a license from a merchant bank since 1984 -- came as Swiss authorities took action against the bank related to money flows from 1Malaysia Development Bhd, or 1MDB. Switzerland's Attorney General said it will seize 95 million Swiss francs ($96 million) from BSI and start enforcement procedures against two of its former employees.
Global Echoes
The move echoed through the international operations of BSI, which is in the midst of a sale by Brazil's Grupo BTG Pactual SA to Swiss-based EFG International AG.
BSI's Group CEO Stefano Coduri resigned, effective immediately, on Tuesday, the bank said in a statement. Separately, Swiss regulator Finma approved BSI's takeover by EFG. EFG is proceeding with the purchase of BSI from BTG Pactual at an undisclosed reduced price, it said in a statement.
Coduri wasn't one of the people referred by Singapore's monetary authority to the prosecutor, who will assess if there were any criminal offenses. BSI said Tuesday that it has cooperated fully with the investigations into 1MDB by the Singapore and Swiss authorities.
The probes and move against BSI's Singapore unit are part of the global money laundering and embezzlement investigations surrounding 1MDB. A Malaysian parliamentary committee identified at least $4.2 billion of irregular transactions by the state fund, and recommended the advisory board headed by Prime Minister Najib Razak be disbanded.
Both 1MDB and Najib have consistently denied wrongdoing. In a statement Tuesday, the fund said it hasn't been contacted by any international legal authority on matters relating to the company. "1MDB remains committed to fully cooperating with any foreign lawful authority, subject to advice from the relevant domestic lawful authorities, and in accordance with international protocols governing such matters," it said.
BSI, which employed 1,983 people at the end of last year, remains well capitalized, it said on Tuesday. The firm was founded in 1873 and opened its Singapore unit in 2005, where the lobby to its office at Suntec Tower One was orderly and quiet on Tuesday, with no signs of staff moving out.
Asset Transfers
EFG has its own office and banking license in the city-state, so it isn't dependent on BSI's license there. Singapore's central bank said it will allow the transfer of the BSI Singapore unit's assets and liabilities to the local branch of EFG or to the parent entity BSI SA.
BSI managed 84.3 billion Swiss francs of client money on Dec. 31, a decline of almost 10 billion francs from a year earlier, according to its annual report.
For a Gadfly commentary piece on Singapore's no-nonsense approach, click here.
Switzerland's Attorney General said the criminal proceedings there are based on information gathered in the course of its investigation and from Finma, Switzerland's financial regulator.
BSI "ignored clear warning signals" about the risk of some of its transactions as it pursued higher-margin returns, Finma CEO Mark Branson told reporters on a conference call Tuesday. The regulator has investigated other Swiss banks related to 1MDB and started proceedings against some, he said.
The attorney general's office pointed to "internal deficiencies" at BSI, saying the information suggests that the offenses of money laundering and bribery of foreign public officials currently under investigation in the context of the 1MDB case could have been prevented if BSI had been adequately organized.
'Chilling Effect'
"This will send a chilling effect to banks and financial institutions to make sure that they have robust anti-money laundering and countering the financing of terrorism programs, as their regulatory licenses could be at risk," Nizam Ismail, head of banking regulatory practices in Singapore at law firm RHTLaw TaylorWessing, said by e-mail. "Worse, there is also the real threat of personal criminal liability."
BSI had introduced 1MDB to a Cayman Islands fund that received a $2.32 billion investment, according to a report from a Malaysian parliamentary hearing. That investment and transactions related to it are the subject of criminal probes, including those conducted in Singapore.
BSI is conducting an internal inquiry into its employees and their dealings related to 1MDB, Bloomberg News reported last week, citing people familiar with the matter. The probe centers on Kevin Swampillai, who's been suspended as head of wealth-management services and named as one of the six individuals by the MAS. Swampillai was the manager of Yeo Jiawei, the first banker to be charged in global probes into 1MDB. Swampillai's lawyer Kenneth Pereira declined to comment.
Yeo, who has been held in remand since April 15, was slapped with two more changes when he appeared in a Singapore court on Tuesday, bringing the total to nine. The banker is "central" to the activities that led to the MAS's move against BSI, said Kwek Mean Luck, second solicitor general.
Tampering Allegations
Kwek argued against allowing bail for Yeo. The banker sought to tamper with five witnesses, including telling them to destroy evidence and not make themselves available to authorities, Kwek said. The bail review was deferred to Thursday. Yeo's lawyer has said that several BSI employees are in a similar position and can answer queries by the authorities.
BTG and BSI's previous owner, Assicurazioni Generali SpA, have been at odds over indemnities for potential losses tied to BSI's dealings with the Malaysian fund. BTG will seek compensation from Generali for fines levied on BSI saying the flaws occurred prior to its acquisition of the Swiss private bank last year, the firm said Tuesday. Generali declined to comment on BSI and the criminal proceedings.
EFG, in its statement, said Swiss authorities' approval of the deal would pave the way for a "swift and orderly closing" of its purchase of BSI. EFG had secured indemnities in relation to the legal matters as well as an undisclosed discount for the bank. "The fine and the penalty will result in a reduction in the purchase price," it said in the statement.
EFG fell as much as 1.6 percent, to the lowest since April 7, in Zurich trading, and the shares were at 5.51 Swiss francs at 3:08 p.m.
Before it's here, it's on the Bloomberg Terminal.
LEARN MORE