Reforming Fed Structure Could Harm Policy Independence: Lacker
by , , and
Presidential candidates want private bankers off Fed boards

Republican seeks bipartisan support to cut bank stakes in Fed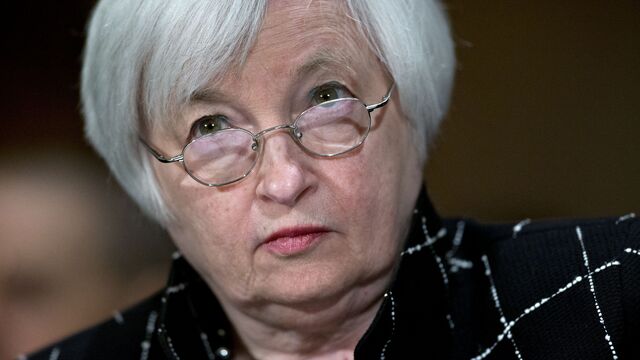 Proposals to reform the Federal Reserve have struck a chord in the U.S. presidential campaign and could trigger changes that hurt its ability to fight inflation if they became law, a veteran central banker warned.
Richmond Fed President Jeffrey Lacker said that pressure to dilute the stakes that private banks hold in the 12 regional Feds could have serious consequences for the independence of U.S. monetary policy if it increased government control over the central bank.

"If the legal ownership of the Federal Reserve banks isn't the banking system you have to ask the question who would own us?" Lacker said in an interview with Bloomberg News last week. "If it is Treasury, you are essentially nationalizing the reserve banks."
Democratic presidential contenders Hillary Clinton and Bernie Sanders have both said that private bankers should be excluded from sitting on regional Fed boards, and a Republican U.S. lawmaker is pushing a bill to cut back the capital that they pay into the system.
Political Cross Fire
The Fed, under political fire since helping to bail out Wall Street during the financial crisis, has a complicated public-private structure that dates back to 1913. Fed governors in Washington, including the chair and vice chair, are nominated by the U.S. president and confirmed by the Senate.
The Fed system also comprises 12 regional reserve banks that each have private banks as stockholders, who appoint most of the members of their respective boards. Those boards, minus directors employed by banks, elect regional Fed presidents subject to the approval of the Fed Board in Washington.
Clinton supports "commonsense reforms -- like getting bankers off the boards of regional Federal Reserve banks," said Jesse Ferguson, a spokesman. Sanders has also said private bankers should be removed from Fed bank boards. U.S. Representative Randy Neugebauer, a Texas Republican, wants to reduce stakes private banks pay into the reserve banks to just 0.5 percent of their capital from 3 percent now.
Lacker, president of the Richmond Fed since 2004 and whose district includes the headquarters of Bank of America Corp., the second largest U.S. bank by assets, defended the structure of reserve banks, arguing that banking directors provide a valuable advisory role and have no input into bank supervision.
Preserving Independence
"I'm open to discussing any alternatives anyone wants to put on the table," he said. "But for me an important bottom line is preserving the extent of monetary policy independence we enjoy now."
Lacker said the Fed's private-public structure protects independence yet is complicated and does need explaining. Efforts to change it, however, threaten to "unravel" the system toward less independence.
"The risk it poses is that if market participants see the threat of changing our governance structure as very real, it could undermine their confidence that we are going to stick to our inflation objective," he said.
St. Louis Fed President James Bullard, Boston Fed President Eric Rosengren, and Kansas City Fed President Esther George have all expressed their readiness to talk with lawmakers. Dallas Fed President Robert Kaplan has said that the Fed should be open to potential improvements to its transparency and governance.
Not Broken
Chair Janet Yellen told the Senate Banking Committee on Feb. 11 that while it was up to Congress to make changes, she didn't think the current Fed structure was broken in terms of its ability to craft good policies.
For some lawmakers calling for reform legislation, the Fed has used its independence to widen the scope of its mission with crisis-era policies that remain in effect.
The number of bills that take aim at some aspect of the central bank averaged 29 per year in the decade between 2005 and 2014 compared with 6.5 in the previous decade, according to research by Sarah Binder, a senior fellow at the Brookings Institution and Mark Spindel, chief investment officer at Potomac River Capital, an investment firm.
The Fed has no constitutional protection for independent monetary policy, Binder noted. The constitution grants Congress, not the Fed, power over the currency, so any independence requires congressional support, she said.
Fed Stock
Neugebauer's proposal would change the way banks subscribe to Fed bank stock. Currently, the Fed requires banks to pay 3 percent of their capital into reserve banks while another 3 percent remains on call. Neugebauer's bill would reduce the paid-in component to 0.5 percent and boost the on-call component to 5.5 percent.
The bill is aimed at freeing up bank capital and compensating them for the reduced dividends they get on their Fed stock holdings resulting from a highway bill passed last year. The measure could return up to an estimated $24 billion to U.S. banks, according to Neugebauer's office.
Republicans are working behind the scenes to win bipartisan support for the measure, which could be tacked on to a broader spending bill if it does not advance in Congress as a stand-alone measure, according to a person familiar to the matter.
Seeking Support
One consideration Republicans may use to win Democratic support is to give the Fed more control over how the returned capital is used by banks, according to the person, who was not authorized to speak publicly.
Banking trade groups, including the Clearing House Association and the American Bankers Association, are supportive of the measure.
In an article published on the Richmond Fed's website, Lacker raised the question of whether reduced paid-in capital "could lead some to argue that banks' role in Fed governance be reduced or eliminated."
A coalition of unions, think tanks and community groups called this year for the stakes of private banks in regional Feds banks be refunded, making them fully public institutions. In the article, Lacker said reducing the private aspects of the Fed's governance structure "would be a grave mistake."
"Who chooses the board of directors?" Lacker said in the interview. "All the thread pulls that I have heard of unravel in the direction of less independence for the Fed and essentially more sensitivity and responsiveness to the Treasury and White House."
Before it's here, it's on the Bloomberg Terminal.
LEARN MORE