U.S. New-Home Sales Surge to Highest Level in Eight Years
By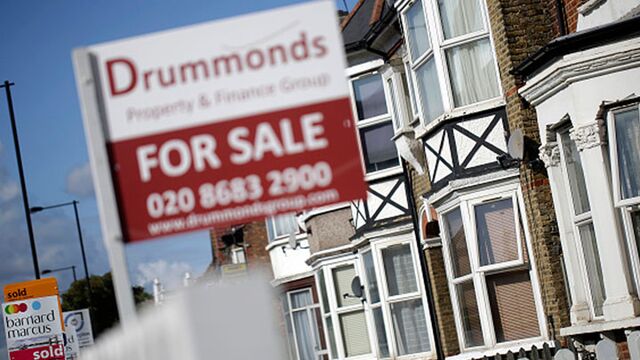 Purchases of new homes in the U.S. surged in April to the highest level since the start of 2008, pointing to a robust spring selling season for builders, Commerce Department figures showed Tuesday.
Key Points
Rose 16.6 percent to 619,000 annualized rate (forecast was 523,000)
Monthly increase was biggest since 1992, while pace was strongest since January 2008
Median selling price jumped 9.7 percent to a record $321,100
Number of homes sold but not yet under construction climbed to 209,000, the highest since May 2007
Big Picture
The rebound in purchases of new properties, combined with stronger demand for previously owned homes, signals housing is being energized by healthy employment gains and cheap borrowing costs. The jump in the number of homes sold and awaiting the first shovel in the ground indicates home construction will help add to economic growth in the second quarter.

Economist Takeaways
"The outlook for housing is very strong for the remainder of the year, even with the prospect for modestly higher interest rates and relatively modest pace of economic expansion," said Russell Price, a senior economist at Ameriprise Financial Inc. in Detroit. "There was a little bit more inventory at the upper price points, and you might be seeing some people nudged off the fence by the prospect of higher interest rates."
"Easier credit conditions mean that the sustained surge in employment is finally boosting the pool of potential buyers who can qualify for mortgages," Ian Shepherdson, chief economist at Pantheon Macroeconomics Ltd., said in a research note. "We don't now expect sales to rise much further in the short-term, but we do hope the trend can be established around the 600K mark over the next few months."
"We have been arguing that the housing recovery will continue over time despite some mixed signals coming across the different housing indicators that we track and today's report sends a very upbeat message about the strength in home sales," Daniel Silver, an economist at JPMorgan Chase & Co., said in research report. "We should caution, however, that the new-home sales data can be volatile and revisions are often meaningful, so the jump in sales reported between March and April likely overstates the underlying strength."
The Details
Gain in median selling price reflected increased sales of homes priced at least $300,000
Sales jumped 15.8 percent in the South to a 352,000 annualized rate, the fastest since December 2007
Purchases rebounded 18.8 percent in the West and also surged in the Northeast, the smallest U.S. region for home sales
243,000 homes for sale in April, enough to last 4.7 months at current selling pace, the shortest in more than a year
25 percent of new homes sold in April were priced from $300,000 to almost $400,000