Morgan Stanley's Gorman Says 'Stay Tuned' for Better Returns
Bloomberg News
Gorman says markets becoming more normal after tough quarter

Gorman speaks to Bloomberg TV at bank's China summit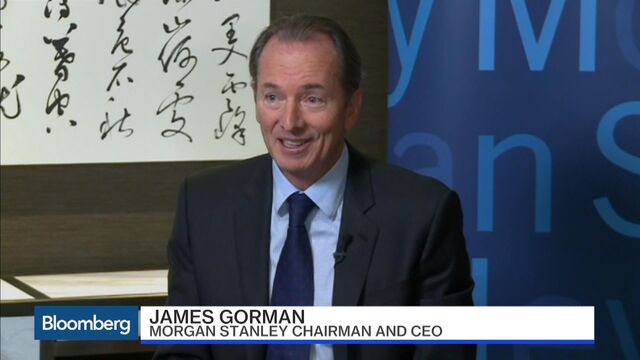 Morgan Stanley Chief Executive Officer James Gorman sounded a positive note about the Wall Street bank's business, telling investors to "stay tuned" for better performance as markets recover.
Speaking to Bloomberg Television in Beijing, where the firm is hosting its China summit, Gorman said a 6 percent return on equity in the first quarter was in "a very challenging environment" and he sees "a lot of upside."

"As these markets start to rebound to a more normal environment, which is what we're seeing now relative to early February, Morgan Stanley will obviously do better," he said.
Shaken at the start of the year by a slump in trading revenue, big U.S. investment banks are trimming jobs and cutting costs. While Morgan Stanley's profit exceeded analysts' estimates for the first quarter, it fell 53 percent from a year earlier to $1.13 billion.
"Three years ago, in that kind of environment, Morgan Stanley would have lost a billion dollars, so the model works," Gorman said. "Maybe I was on my own on this, but I felt pretty good about the first quarter."

At the firm's annual meeting on May 17, Gorman said he stood by a goal to boost ROE, a measure of profitability, to at least 9 percent by 2017.
Asian Outlook
Gorman didn't say whether he plans to expand in Asia, though he did say the region has "been on the back foot the last year or two" and cited prospects for capital to flow out of Asian markets. At the same time, he played down concerns about the outlook for China's economy, after Autonomous Research analyst Charlene Chu said that a "massive bailout" was needed to tackle the nation's bad loans.
"I'm not sure there's accelerated growth in Asia relative to what's going on the U.S.," he said. "But that said, we're long-term buyers if you will of China and of greater Asia."
China is growing faster than other economies and, while bad loans will rise, the nation's four big state banks are "tremendous earnings engines," Gorman said. The $10 trillion economy's complicated shift from export-led to domestic demand makes "some bumps" inevitable, he said.
No Brexit
Gorman said he guessed that the U.K. will choose to remain in the European Union -- "the British have uncommon common sense." An exit would have a limited effect on investment banks, such as expenses from setting up in separate jurisdictions, and he was more concerned for "markets" and the E.U., which had been "an extraordinary success."
On reasons for optimism about Morgan Stanley's outlook, Gorman cited what he described as a "fortress balance sheet."
"We have $70 billion of capital. When I started this job six-and-a-half years ago, we had $40 billion," he said. "We have over $200 billion of liquidity -- the firm's in great shape."
— With assistance by Stephen Engle, and Cathy Chan
Before it's here, it's on the Bloomberg Terminal.
LEARN MORE