India's Monsoon Seen Strongest in 22 Years as La Nina Looms
by
Showers in June-September season seen 109% of 50-year average

Monsoon-sown food grain production seen rising on good rain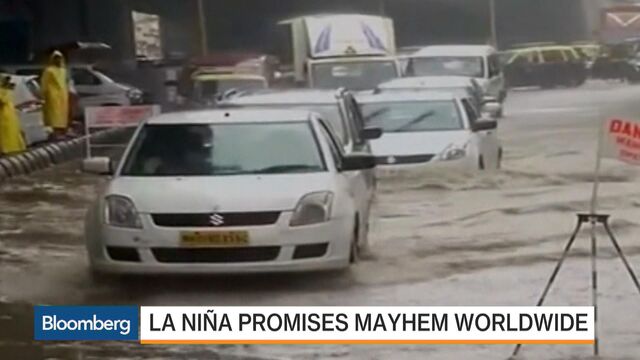 India is set for the highest monsoon rainfall since 1994 as the odds of a La Nina increase, boosting planting of rice, corn and oilseed crops.
The precipitation during the four-month rainy season starting in June is seen at 109 percent of the average of about 89 centimeters (35 inches), more than the 105 percent predicted in April, Skymet Weather Services Pvt., a New Delhi-based private forecaster, said on its website on Tuesday. The forecast has a margin of error of 4 percent. That's more than the 106 percent estimated by the state-run India Meteorological Department.
The prediction for above normal downpour for the first time since 2013 is seen boosting prospects of agricultural production and ease an acute drinking water shortage caused by back-to-back droughts. Prime Minister Narendra Modi's government is counting on a normal monsoon to sustain economic growth and contain food costs after the lowest rainfall since 2009 hurt rice, corn, sugar-cane and oilseed crops last year.

"The El Nino is tapering off and it will collapse after the onset of monsoon," Jatin Singh, Skymet's chief executive said in the statement. "There are more chances of getting into La Nina in the later part of this year."
La Nina
The tropical Pacific Ocean is in a neutral state and outlooks suggest little chance of indicators returning to El Nino levels, Australia's Bureau of Meteorology said Tuesday. That means mid-May marks the end of the event that reduced Indian rainfall, parched farmland in Asia and curbed cocoa production in parts of Africa.
Weather watchers are now waiting for La Nina, a cooling of the tropical Pacific sometimes thought of as El Nino's opposite. La Nina typically brings more rain to parts of Asia, including India. Based on the 26 El Nino events since 1900, about 50 percent have been followed by a neutral year with 40 percent by La Nina, according to the Australian bureau.
The monsoon affects both summer and winter crop sowing in India, and waters more than half of all farmland. Rainfall was 14 percent below a 50-year average in 2015, following a 12 percent shortfall in 2014, data from the meteorological department show. Rains will arrive in Kerala on June 7 compared with the normal onset date of June 1, according to the weather office.
The area under various monsoon-sown grain crops is set to increase by as much as 20 percent, boosting production to around 129 million tons to 130 million tons, Skymet said. The country produced 124 million tons of food grain during the rainy season in 2015, according to farm ministry data. Planting of soybeans, peanuts, pulses may climb while the area under cotton will probably reduce marginally, and the area under sugar cane may remain the same as previous year, Skymet said.
Before it's here, it's on the Bloomberg Terminal.
LEARN MORE