Stocks Extend Rally as Fed Angst Eases; Supply Drop Boosts Crude
by and
Dollar retreats as oil rebound bolsters ruble to ringgit

Asian index futures signal more gains; Kiwi near 2-month low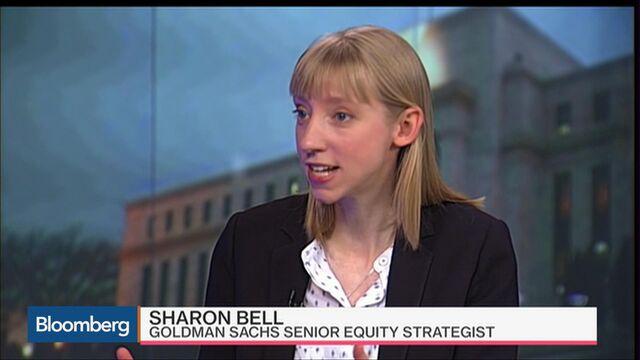 Don't fear the Fed is the new mantra for global markets.
U.S stocks rose to their highest level in almost a month amid mounting investor optimism that the world economy can withstand higher interest rates from the Federal Reserve.  European equities extended gains, while emerging-market stocks rose the most in six weeks. Gold fell amid a retreat in the dollar, while oil jumped to a seven-month high on declining U.S. output and supplies. Canada's currency strengthened from near a seven-week low after the nation's central bank kept key interest rates on hold.

Improved confidence in financial markets is tempering anxiety over the Fed's plans to raise rates, potentially as soon as next month. Polls show growing support for the U.K. to remain in the European Union, easing concerns over the prospect of 'Brexit,' and the rally in commodities is warding off the threat of deflation. While a measure of economic surprises in the world's largest economies has climbed its highest point this year, faith in global growth prospects is easily shaken, with equities struggling to hold onto gains in 2016.
"There was a mini kind of taper tantrum when the probability of a rate hike jumped but we've had decent housing data, and while the data is still mixed, it's not bad," Anwiti Bahuguna, senior portfolio manager at Columbia Threadneedle Investments in Boston, said by phone. "While the Brexit vote is still up in the air, polls seem to be favoring a vote to remain, and the market is coming around to the idea that a June or July hike isn't such a bad thing." 
Stocks
The S&P 500 Index rose a second day, adding 0.7 percent to 2,090.54 as of 4 p.m. in New York, the highest level since April 27. The index notched up a set of consecutive advances after seven sessions of swinging from gains to losses.
"Yesterday was certainly a big day, and with the breadth in the market and some of the key groups rallying with bank stocks and semiconductor stocks, these are things telling us that we might be able to hold the rally this time," Matt Maley, an equity strategist in New York at Miller Tabak & Co LLC, said by phone.
Commodity producers and banks drove Wednesday's move in the S&P 500, with financial stocks rising to their highest level this year amid bets higher U.S. rates will boost profits. Bank of America Corp. and Citigroup Inc. rallied more than 1.6 percent. Energy shares followed oil higher, with U.S. crude closing above $49 a barrel, helped by a retreating dollar that also supported the gains in raw-materials companies.
AT&T Inc. made a bid for Yahoo! Inc. and remains a contender to acquire the Sunnyvale, California-based company's core Internet business, according to people familiar with the matter, who asked not to be identified as the information isn't public. While AT&T stock climbed 0.3 percent, Yahoo's slumped 5.2 percent, the most since January.
For more on the potential bid for Yahoo, click here.
Traders are pricing in a one-in-three chance of a rate hike at the Fed's next meeting in June. That's up from 4 percent on May 16. July is the first month which has more than even odds on a hike in borrowing costs. Fed Chair Janet Yellen is scheduled to speak at Harvard on Friday, after the closure of Asian and European markets.
The Stoxx Europe 600 Index added 1.3 percent Wednesday, as almost all industry groups climbed. Banks and energy producers posted the biggest gains. The equity measure closed above its 50-day moving average on Tuesday for the first time after slipping below it earlier this month. That sent a short-term bullish signal in technical analysis, according to Saxo Bank A/S trader Pierre Martin.
The MSCI Emerging Markets Index rose 1.5 percent, with technology and energy shares leading the advance. The Hang Seng China Enterprises Index of mainland Chinese stocks listed in Hong Kong jumped 2.8 percent, the most in more than a month. Benchmark gauges in South Korea, Taiwan, the Philippines, Russia and Dubai increased at least 1 percent.
Futures on Asian stock indexes signaled another day of gains across the board, with contracts on Japan's Nikkei 225 Stock Average rising at least 1 percent in Osaka and Chicago. Futures on equity measures from Australia to Hong Kong rose at least 0.2 percent in most recent trading.
Currencies
The Bloomberg Dollar Spot Index fell 0.2 percent, paring its advance in the month to 3.4 percent, while the yen weakened 0.2 percent to 110.19 per dollar after Goldman Sachs Group Inc. predicted the Japanese currency would slide 12 percent by this time next year.
The Canadian dollar strengthened 0.8 percent after policy makers held the interest-rate target unchanged and said economic growth would rebound next quarter.
The MSCI Emerging Markets Currency Index climbed 0.2 percent. The won rose 0.8 percent, bolstered by optimism that strength in the U.S. economy will shore up demand for South Korean exports. Malaysia's ringgit strengthened 0.5 percent and Russia's ruble gained for a second day to a one-week high amid the rally in crude.
New Zealand's dollar retreated near an almost two-month low after Auckland-based Fonterra Cooperative Group Ltd., the world's biggest dairy exporter, forecast a payout to farmers for the coming season that fell short of analysts' expectations.
Commodities
Oil rose after a government report showed that U.S. crude inventories and production declined, easing concern over a global glut in the commodity.
West Texas Intermediate crude climbed 1.9 percent to settle at $49.56 a barrel, while Brent added 2.3 percent to end at $49.74. WTI closed at a premium to Brent Tuesday for the first time in almost two weeks.
Gold dropped to its lowest level in seven weeks, with the August contract falling a sixth day, its longest losing streak since Nov. 6. Futures fell 0.5 percent to settle at $1,226.60 an ounce, after touching $1,220.60, the lowest level for a most-active contract since April 6.
Bonds
Yields on 10-year Treasury notes were little changed at 1.87 percent, while two-year rates climbed one basis point, or 0.01 percentage point, to 0.92 percent. Wall Street dealers have been left with the fewest Treasuries on record at two note auctions this week as shrinking balance sheets and rising yields boost investor demand.
A gauge of demand at a $34 billion sale of five-year notes Wednesday rose to the highest level since 2014 as primary dealers were awarded the lowest percentage at an offering of the securities since 2003. The auction came a day after a $26 billion two-year note sale also left primary dealers with the lowest award on record.
Treasuries are the worst performers among developed bond markets in the past two years as the Fed moves to tighten monetary policy, while other major central banks ease.
Greek bonds advanced, pushing 10-year yields below 7 percent for the first time since November. Euro-area finance ministers and the International Monetary Fund reached an agreement that will allow for the release of 10.3 billion euros in aid to the Mediterranean nation.
Before it's here, it's on the Bloomberg Terminal.
LEARN MORE