For Sale: Russian Mobile-Phone Towers, Bear Fences Optional
By
MegaFon, VimpelCom, Tele2 Russia to divest once-prized assets

Local bidders backed by investors Macquarie Group, Mubadala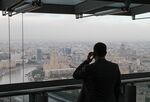 Across Russia's vast expanse, thousands of wireless phone towers worth $1.5 billion are coming up for sale, a rare investment opportunity for foreign buyers as the country's mobile carriers shed assets to raise funds.
PJSC MegaFon, VimpelCom Ltd. and state-backed Tele2 Russia spent years raising structures from St. Petersburg in the west to Vladivostok in the east, jostling to expand coverage and gain an advantage in the world's biggest country by land size. As Russia enters its second year of recession, all three are now getting ready to divest their infrastructure.
In the rest of Europe and the U.S., independent landlords have bought up thousands of masts, renting them back to the prior owners. But Russian operators have, until now, been reluctant to relinquish ownership. A falling ruble and economic stresses tied to sanctions imposed after President Vladimir Putin annexed Crimea have helped change their minds. Collectively, they've put more than 30,000 towers up for sale, looking for ways to cut costs and free up cash to improve services. 
The chance to enter Europe's biggest towers market has attracted investors from Australia's Macquarie Group Ltd. and Abu Dhabi's Mubadala Development Co., who are backing local bidders. But others in Europe and the U.S. are staying home, dissuaded by the potentially toxic blend of operational and political risk.
"This may be a stretch for an international player to come into the Russian market at this stage," Peter Owen Edmunds, chairman of Macquarie-backed Russian Towers, said by phone. "There may be some constraints because of the geopolitical situation and the perceived risks of raising capital for Russia and the operating risk on the ground."
Russia is combating a second year of recession after oil prices slumped and U.S. and EU sanctions limited access to international capital markets. Foreign direct investments fell to $1.3 billion in first nine months of last year from $69 billion in all of 2013, according to the central bank. Investors don't believe the economy will post significant growth for years and, in addition, Russia's government doesn't welcome foreign control over infrastructure assets, said Vladimir Tikhomirov, chief economist at BCS Financial Group.

Just managing towers in Russia can be challenging. The gear has to withstand Siberia's extreme winters. In some sparsely populated areas, criminals steal tower equipment to sell for scrap, according to Konstantin Ankilov, head of researcher TMT-Consulting. In Kamchatka, bears impeded construction and even now scratch their backs against the fences built around the masts, according to Russian Towers.
Those challenges were known to Edmunds, who set up Russian Towers in 2009. He sees a chance to build a company that would own tens of thousands of locations, and said he'll engage with all of the current sellers.
"Whether or not there is enough capital to do three deals, I think, remains to be seen." he said. "Russian Towers was formed with the ambition to do a big deal with at least one of the major mobile operators."
Masts are typically leased back to the original owner in multi-year contracts, and independent owners can install multiple receivers, boosting income by as much as 30 percent, according to Denis Kuskov, who leads researcher TelecomDaily. In Russia, each carrier built its own duplicate networks, so those benefits will be limited in this market, he said.
MegaFon has put 14,000 towers into a separate unit for potential divestment, while VimpelCom intends to sell about 10,000 as soon as this year. Tele2 Russia is also considering a sale. Together with Mobile TeleSystems OJSC, the three own about 42,000 ground-based towers. Carriers will probably keep another 75,000 urban rooftop sites, according to TowerXchange.
VimpelCom's sale is approaching and may be worth as much as $600 million, TowerXchange said. The leading bidders are Russian Towers, Mubadala -- which is backing the Russian Direct Investment Fund -- and local investor Vertical, the researcher said. TowerXchange expects buyers to spend more than $1.5 billion over the next 18 months.
In contrast to the other Russian carriers, MTS opposes the idea of selling its towers, saying a divestment may lead to higher costs for leasing them back over time. Instead, MTS invited rivals to rent space on 5,500 of its towers in April. Independent tower operators have expressed an interest in managing those masts, according to the company.
Mubadala will evaluate the opportunities on a case-by-case basis, a spokesman said. Vertical declined to comment.
Russia has about 117,000 towers and rooftop masts, according to TowerXchange. In the U.S., 82 percent of towers are owned by independent operators. Investors willing to stomach the risks in Russia can reap years of steady returns, Kuskov said.
"It's like buying an office building and then renting it back to the seller," he said. "It's a great opportunity for global companies that invest in infrastructure, seeking a long-term return."