Five Things You Need to Know to Start Your Day
Get caught up on what's moving markets.
by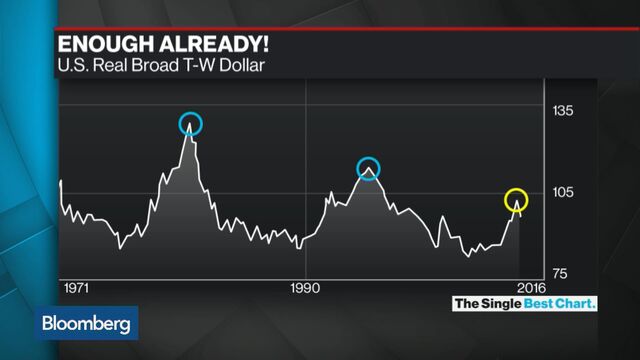 Want to receive this post in your inbox every morning? Sign up here
The dollar's rally continues, Brexit concern eases after polls, and another meeting in Europe on Greece. Here are some of the things people in markets are talking about today. 
Dollar rally
The greenback rally is gathering pace as speculation mounts that the Federal Reserve will raise rates at its meeting next month. Federal Reserve Bank of Philadelphia President Patrick Harker said yesterday that he sees two or three rate hikes in 2016, depending on how U.S. economic data pan out. The dollar was trading at $1.1184 to the euro at 5:50 a.m. ET, down from over $1.16 on May 3, with market-implied probability of at least one hike by July now over 50 percent, from a low of 15 percent before the release of the Fed minutes on May 10. Commodities are being hit by the strong currency, with gold having its longest slump since November, falling for the fifth day to $1,242.24 an ounce. In other foreign exchange news, the Wall Street Journal has reported that the People's Bank of China dropped its market-based mechanism for managing the yuan in early January, with policy switched to focus on stability of the currency. 
Brexit worries ease
The British pound is gaining this morning after a poll released last night showed older voters, who had previously backed the leave campaign, are switching sides. This morning Bank of England Governor Mark Carney is addressing the U.K. Parliament's Treasury Committee and warning again of the "substantial" uncertainty the referendum is causing. The pound gained 0.7 percent against the dollar to trade at $1.4584 at 6:00 a.m. ET. The corporate bond market is already signalling that it expects a vote to remain, as investors are accepting narrower premiums to hold debt denominated in sterling instead of euros.
More Greece talks
Five years after getting the biggest sovereign-debt write-off in history, European policy makers are back at the table this morning to discuss debt relief for Greece. The main purpose of the meeting of euro-area finance ministers is the disbursement of a proposed €11 billion ($12.3 billion) loan package for the country, but with the International Monetary Fund increasingly pushing for real action on Greece's debt mountain, talks on how to ease that burden are likely to dominate the discussion. 
Markets rally
The MSCI Asia Pacific Index retreated 0.9 percent overnight, with comments from Japanese Finance Minister Taro Aso on his government's lack of intention to intervene in the yen hitting stocks in Tokyo. It's a different story in Europe, where the Stoxx 600 Index was 1.2 percent higher at 6:10 a.m. ET as the weaker euro boosted equities. S&P 500 futures are 0.3 percent higher. 
Remember bond desks?
While it is no secret that the world's biggest banks have been cutting staff, the scale of the cuts to bond trader numbers may surprise. Since 2011 about one in three such positions have been cut, according to research from Coalition Development Ltd. It does not seem likely that the retrenchment at global financial institutions will halt any time soon, with companies such as Deutsche Bank AG remaining under pressure.
What we've been reading 
This is what's caught our eye over the last 24 hours.
Before it's here, it's on the Bloomberg Terminal.
LEARN MORE