markets
Fed Hawks Spur Japan Bond Buying as Swaps Turn World Upside Down
By and
Dollar holders are getting deeper discounts to borrow yen

Odds of higher U.S. interest rates by July climb above 50%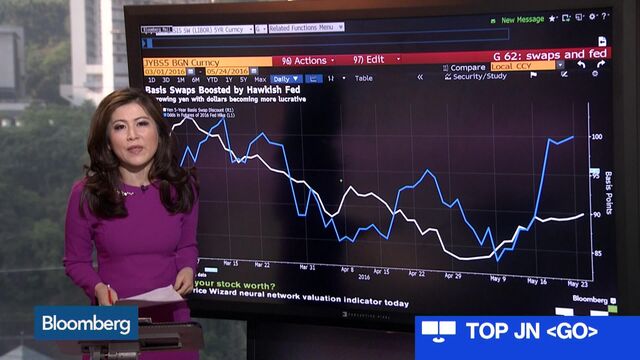 Hawkish comments from the U.S. Federal Reserve are making it more lucrative for global funds to buy negative-yielding Japanese government bonds -- after currency swaps have worked their magic.
By entering a cross-currency basis swap contract to buy JGBs, dollar-based investors can get a fixed coupon equivalent to 2.25 percent on a five-year note with a nominal yield of minus 0.22 percent, Bloomberg calculations show. That's about 80 basis points higher than equivalent-maturity U.S. Treasuries. Holders of the greenback are getting a deeper discount to borrow yen after central bankers including New York Fed President William Dudley stoked speculation of an interest rate increase as soon as June.

The popularity of so-called basis-swap trades among speculative investors such as hedge funds is reflected in foreigners buying the most medium-term JGBs since September 2014 last month, while selling superlong bonds, according to Japan Securities Dealers Association data. Meanwhile, Japanese banks and insurers are getting pushed into ever longer maturities, or into overseas markets, as Bank of Japan easing sends yields below zero on debt due in up to a decade.
For a story on Goldman Sachs Group arranging sales of Japanese debt at sub-zero yields, click here
'Easy Trade'
"It's the worst investment environment for Japanese investors, but for foreign investors who can use basis swaps, it's an easy trade even if you were to hold the five-year JGBs until maturity," said Shuichi Ohsaki, the chief rates strategist at Bank of America Corp. Merrill Lynch in Tokyo. "While the yen has been strengthening in the spot market, there is hardly any demand for the yen in the swaps market."
The discount offered to borrow yen in dollars rose as high as 91 basis points on May 19, the biggest in a month, after Dudley said a rate hike in June or July "is a reasonable expectation." That echoed sentiment in the minutes of the policy-setting Federal Open Market Committee's April 26-27 meeting, published Wednesday.
As early as May 3, regional Fed presidents including Atlanta's Dennis Lockhart and San Francisco's John Williams signaled that the U.S. economy could warrant a rate hike at the June 14-15 gathering. That helped the swap discount climb from off a three-month low of 82 basis points reached on April 28, after BOJ Governor Haruhiko Kuroda disappointed investors by refraining from additional stimulus.
Rising Odds
Futures traders assigned about a 54 percent chance the Fed will raise rates by July from the current range of 0.25 percent to 0.5 percent as of Monday, topping 50 percent for the first time since March. The odds were as low as about 15 percent earlier this month.
Even before the bump in basis swaps, overseas investors had been snapping up JGBs maturing in two and five years, with net purchases totaling 2.7 trillion yen ($25 billion) in April, according to JSDA. That mirrored net sales of the notes by Japan's city banks amounting to 3.1 trillion yen, also the most since September 2014.
More than 70 percent of Japan's sovereign debt yields less than zero, including the benchmark 10-year note with a yield of minus 0.1 percent as of Wednesday afternoon in Tokyo. The two-year security yielded negative 0.235 percent.
When a dollar holder attempts to buy JGBs using the yen, the investor typically uses several different financial products including basis swaps and yen interest-rate swaps to make it a profitable trade, according to Naoya Oshikubo, a rates strategist at Barclays Plc in Tokyo.
"Foreign investors have been active in trading medium-term JGBs," Oshikubo said. "And the strong demand is tied to basis swaps."
Before it's here, it's on the Bloomberg Terminal.
LEARN MORE