Ex-Barclays Trader Says Rivals 'Corrupt' in Setting Libor
by
Jury shown transcript of September 2006 Jay Merchant call

Libor requests common knowledge in market, Merchant says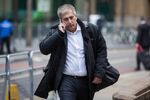 Jay Merchant, one of five former Barclays Plc traders on trial for rigging benchmark interest rates, described another bank's Libor submission as "corrupt" in a 2006 phone call, prosecutors said.
"A bank had done what you had been doing, at this stage, for a year," James Hines, a prosecution lawyer, said in court Tuesday referring to a transcript of the call. "You didn't like it and people were complaining about it."
Merchant, 45, and four of his colleagues are on trial in London, and deny accusations that they conspired to rig the London interbank offered rate, a benchmark tied to trillions of dollars in securities and loans, from 2005 through 2007.
On the phone, Merchant complained that Rabobank Groep's Libor submission on Sept. 26, 2006, was too low, according to the prosecution.
"That was an accurate assessment of what happened and it was an accurate description of what you were doing, wasn't it?" Hines said. "It is corrupt, isn't it Mr. Merchant, and you knew it."
Market Fluctuations
"Not at all," Merchant said, denying he was talking about Libor. He was trying to reassure a manager about fluctuations in the market that no one anticipated, he said.
The Libor U.S. dollar rate was determined by a panel of 16 banks, which were asked in a daily poll to estimate how much it would cost them to borrow from each other for different periods. To reach the final number, the top and bottom 25 percent of submissions were removed and the remaining numbers averaged.
"Everybody knew that banks set Libor to their own commercial interests," Merchant said on his third day of testimony. "It was completely open from the day I joined" the desk.
"Do you suggest that all the counterparties to Barclays knew that you were making" requests to the cash desk in London "to influence the rate to your advantage?" Hines asked.
"No one was trying to influence anything," Merchant said. "We were just doing our job."
Lunch
Merchant said he had conversations with supervisors about Libor.
He testified that during a 2005 lunch with then global head of fixed income Eric Bommensath about his upcoming move to New York, the executive told him to replicate the success of the London euro desk including "communicating with the cash desk."
"You've made Mr. Bommensath central to your defense by distorting a perfectly innocuous cup of coffee and a sandwich," Hines said. "You were pinning the whole blame on him, weren't you?"
"No, I was not," Merchant replied. "I do not forget conversations with Mr. Bommensath, he was very senior."
Merchant said he "found it difficult to believe" Barclays executives didn't know the bank's swaps desk was making requests to set Libor at a certain level.
Before it's here, it's on the Bloomberg Terminal.
LEARN MORE