European Banks Face Risk of U.S. Rivals' Dominance, Staley Says
by and
European policymakers must decide if they care, CEO says

Interest rates, misconduct cost, new rules, hurting EU banks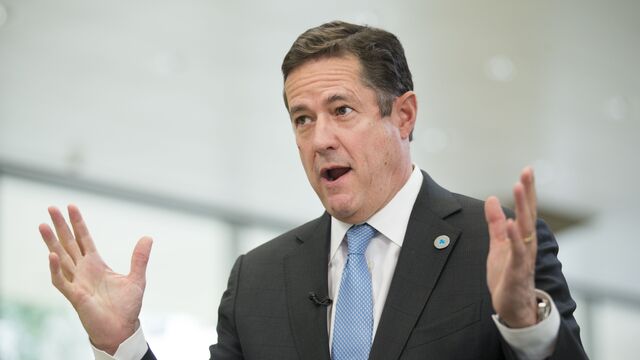 James "Jes" Staley, the chief executive officer of Barclays Plc who took over last year after a long career at JPMorgan Chase & Co., said that European investment banks are losing control of their own markets to U.S. rivals as they shrink and struggle to make a profit.
A combination of new rules, low interest rates and the costs arising from past misdeeds has placed many European investment banks "at the brink," Staley, 59, said at a speech in Brussels. The lenders have lost about 20 percent of their market share across the continent in the past decade, while U.S. firms have boosted their share, he said.

"We're about to tip over into American dominance, and if this trend continues, we risk a very near future in which Europe's capital markets are almost entirely dependent on firms domiciled elsewhere," Staley said. "To my mind, that's a problem."
Barclays is among the biggest European banks that are scaling back operations as they struggle to boost profit and meet tougher rules from regulators. Staley is firing thousands of workers, exiting businesses and selling assets, as is Deutsche Bank AG chief John Cryan and Credit Suisse Group AG CEO Tidjane Thiam. European authorities must remove obstacles to the growth of capital markets within the continent that will allow the region's banks to serve as intermediaries and hold less risk on their balance sheets, he said.
"European policy makers have a decision to make and it is decision that needs to be taken quickly," Staley said. "They must determine whether they care who owns, runs and manages the capital market intermediaries that we depend on."
Even U.S. investment banks aren't covering their cost of capital, showing the industry is "structurally impaired," Staley said in a later interview with Francine Lacqua on Bloomberg Television. While that may change as banks re-price services, firms have to adjust in the meantime, he said.
"We're not going to wait for that at Barclays," Staley said. "We're going to run our investment bank in a way that delivers the return our shareholders want sooner rather than later."
Lenders are also struggling to make money as policy makers keep interest rates close to zero, he said. Staley said in the television interview that he's encouraged by economic growth in the U.S. and hopeful that such expansions will lead to more normalized monetary policy worldwide.
"Everyone has got to keep an eye on this noble experiment -- but it's an experiment -- of running at zero to negative interest rates," Staley said. "The impact that it has on the economies long-term, we just don't know."
In addition to regulation and low rates, banks face "historical conduct matters that we as an industry must make right," Staley said at the conference. Barclays has seen about 20 billion pounds ($28 billion) of profit in the past five years wiped out by misconduct charges.
"The cumulative impact has been substantial and many European firms are at the brink," Staley said in his speech. "Ultimately, banks incapable of making profits are not safe and are not sustainable."
Before it's here, it's on the Bloomberg Terminal.
LEARN MORE