Drought Breathes Life Into Diesel in Asia as Farms Get Scorched
by and
Nations including Vietnam, India buy fuel for irrigation pumps

Profits from making diesel surge 65% from 5-year low in April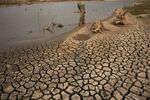 After starving farms across Asia of rainfall, El Nino's last gasps have infused life into the battered market for diesel fuel in the region.
South Asian nations are using more diesel to run irrigation pumps used by farmers in the absence of rainfall to water crops and as dry weather depletes hydropower. That's contributed to a 65 percent surge in profits from making the fuel to the highest since December, a rebound from a five-year low early last month.
"In summer, the higher use of irrigation and pumping equipment supports diesel demand," said Tushar Tarun Bansal, a senior analyst at industry consultant FGE. "Gasoil will find support for next one to one-and-a-half months as demand in South Asia rises on the back of agricultural use."

While the El Nino phenomenon has now ended, it triggered dry weather and left millions grappling with the worst drought in decades in Asia after a string of weak monsoon seasons. As farmers sought ways to keep crops alive, India's diesel imports in April soared almost 5,000 percent from a year earlier. Vietnam bought 22 percent more from overseas in the first four months of the year compared with the same period in 2015, and Pakistan's purchases into the Keamari and Fauji terminals grew 7 percent.
The diesel market in Asia has been hammered over the past year by a glut of supplies, exacerbated by record exports from China while the nation boosts refining rates to feed domestic demand for gasoline to power cars.
Profits Jump
"Diesel demand for power generation has improved amid droughts across Asia," said Nevyn Nah, a Singapore-based analyst at industry consultant Energy Aspects Ltd. "Asian demand from some South Asian countries and Vietnam have absorbed record diesel exports of 300,000 barrels a day from China, indicating healthy buying interest in the region."
Profits from turning benchmark Dubai crude into diesel in Asia plunged 35 percent last year, and slid to $7.08 a barrel on April 6, the lowest since at least December 2010, data compiled by Bloomberg show. They have since jumped to $11.65 a barrel amid demand from the southern Asian nations.
The increase has outstripped gains in overall refining margins, which have increased to $5.37 a barrel from $3.78 in early April, according to data compiled by Bloomberg.
Import Demand
In Vietnam, the world's largest producer of robusta coffee beans, diesel imports from January to April this year rose to 2.23 million metric tons, compared with 1.83 million tons over the same period last year, data from the nation's customs department show.
India, which is becoming the center of global oil demand growth amid an expanding economy, boosted diesel imports almost 50 times from a year earlier to about 508,000 tons in April, data from the oil ministry's Petroleum Planning and Analysis Cell show.
"The drought in India could be one of the elements that's boosting the country's fuel consumption," said Lee Chung Jai, an analyst at KTB Investment & Securities Co. "India's crude demand is unbelievably high this year as its economy is seeing huge growth."
La Nina
Still, with the latest monsoon season nearing, the surge in diesel could prove short-lived. As the El Nino weather pattern ends, ocean surfaces are starting to cool, signaling the start of a La Nina. That phenomenon could prompt heavy rain from India to Indonesia.
Rainfall in the Dak Lak province, which represents about 30 percent of Vietnam's coffee harvest, is forecast to be similar to the average in previous years during the May 21-31 period, according to the nation's Meteorology and Hydrology Department. The monsoon in India, which accounts for more than 80 percent of annual rainfall, may be above normal this year for the first time since 2013, according to the India Meteorological Department.
"The current higher-than-normal demand will taper when monsoon rains hit," FGE's Bansal said. "This year's monsoon is expected to be normal so far."
Before it's here, it's on the Bloomberg Terminal.
LEARN MORE