Deutsche Bank Trading Woes Exposed in Slide Down Currency League
by and
After topping Euromoney ranking for 9 years, lender slips to 4

Bank's market share shrinks to 7.9%, from 14.5% a year earlier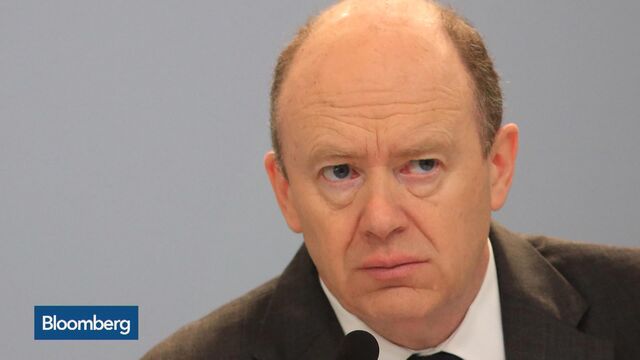 A tough week for Deutsche Bank AG just got worse.
The German lender's share of the $5.3 trillion-a-day currency market tumbled to 7.9 percent, down from 14.5 percent a year earlier, according to a Euromoney Institutional Investor Plc survey. The bank is the world's fourth-largest currency trader by market share, sliding from second place in Euromoney's 2015 ranking after holding the top position from 2005 to 2013.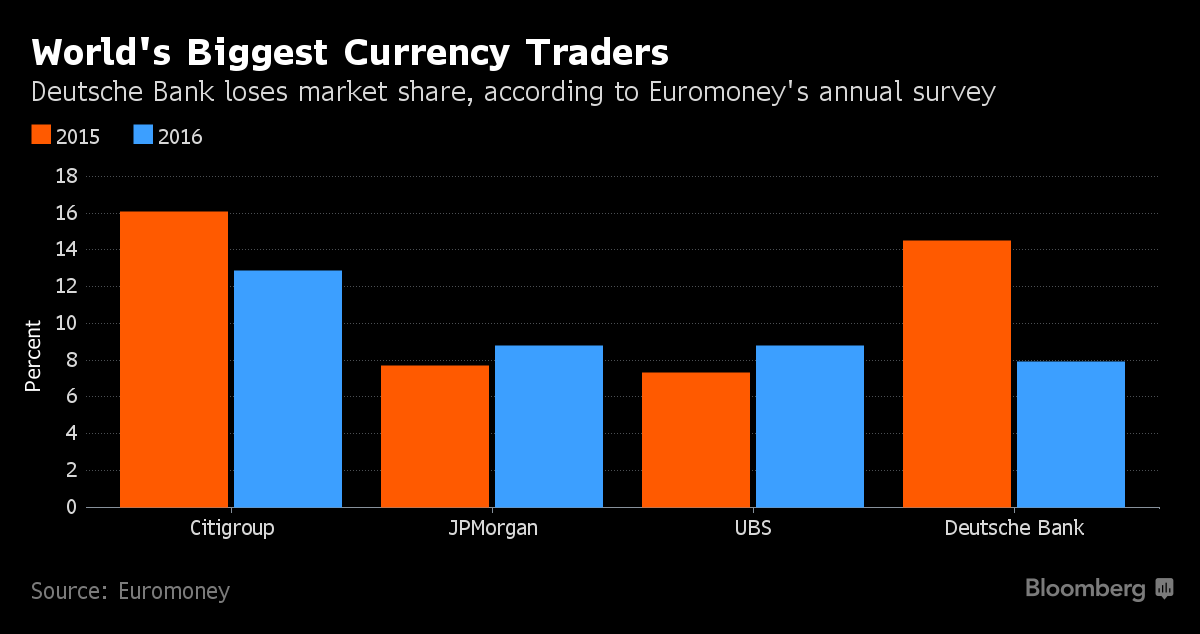 That's the second blow for Deutsche Bank in as many days, after Moody's Investors Service on Monday cut the lender's credit rating to two grades above junk. The bank is axing jobs, pulling out of countries and dropping clients as it looks to return to profit. Net revenue from the bank's debt sales and trading team, which includes foreign exchange, slumped 29 percent in the first quarter from a year earlier, the bank reported last month.
"The overall result reflects a well-flagged shift in the bank strategy that has seen us focus on delivering a better quality of service to a smaller number of clients," Fabio Madar, global head of foreign-exchange sales in London at Deutsche Bank, said via a spokesman. "We remain committed to maintaining our world-class global foreign-exchange business and we're making significant investments to further strengthen our electronic and derivatives offering."
Deutsche Bank fell to fifth place from second in Euromoney's evaluation of the spot and forward market while it retained the lead in options trading. 
"Deutsche Bank has been particularly hard-hit by all the restructuring and the revamps," said Paul Gulberg, a banking analyst in New York at Portales Partners LLC. "It's challenging for all the European banks. You have negative interest rates in Europe, which isn't helping the trading environment at all."
For more on the Euromoney 2016 survey, click here.
Citigroup Inc. topped Euromoney's rankings with a 12.9 percent market share, followed by JPMorgan Chase & Co. and UBS Group AG. Barclays Plc slipped three spots to sixth, the survey shows.
Banks have struggled to offset low interest rates and market volatility that have together pushed investors away from the currency markets, sapping revenue. Volumes fell 23 percent from last year, with the top five banks' share of the market plummeting to an all-time low, Euromoney said.
They are also losing businesses to non-bank liquidity providers, with XTX Markets, a London-based electronic market maker, ranking 9th in the survey in its debut. The shift comes as the currency market has been embroiled by controversies, from benchmark fixing to attempts to cancel trades after a massive surge in the Swiss franc in 2015.
The following is a table of the top 10 currency traders by market share from Euromoney's 2016 survey:
| | | |
| --- | --- | --- |
| | 2016 Ranking | Change |
| Citigroup | 1 | -- |
| JPMorgan | 2 | +2 |
| UBS | 3 | +2 |
| Deutsche Bank | 4 | -2 |
| Bank of America Merrill Lynch | 5 | +1 |
| Barclays | 6 | -3 |
| Goldman Sachs | 7 | +2 |
| HSBC | 8 | -1 |
| XTX Markets | 9 | New |
| Morgan Stanley | 10 | +3 |
Before it's here, it's on the Bloomberg Terminal.
LEARN MORE