Constancio 'Personally' Expects Inflation Near ECB Goal in 2018
by and
ECB Vice President speaks in Bloomberg Television interview

Banks well prepared for volatility related to Brexit vote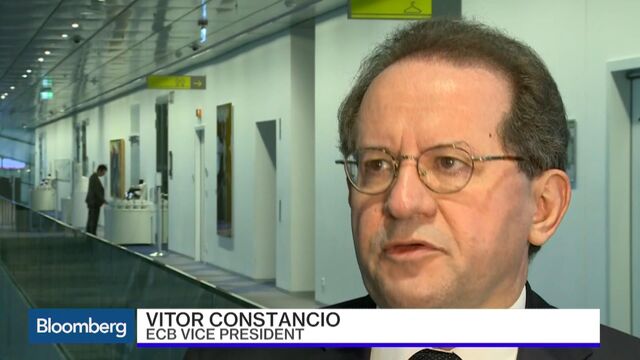 European Central Bank Vice President Vitor Constancio said he "personally" believes euro-area inflation will be close to the central bank's goal two years from now.
The ECB currently predicts consumer prices will rise an average of 1.6 percent in 2018, less than the rate of just under 2 percent it considers in line with its mandate. Asked in a Bloomberg Television interview whether he thinks inflation will be higher than forecast at the moment, Constancio said he "certainly personally expects" so.
The ECB will publish an update of its staff projections next week that will reflect an increase in oil prices and the fresh round of stimulus policy makers agreed to in March.
Euro-area price growth has undershot the ECB's goal since early 2013, as the region's economy struggled to recover from the global crisis. To counter the risk of deflation in the currency bloc, the Frankfurt-based central bank has deployed an array of unconventional policies that include asset purchases and negative rates.
"We will have several months of very low, and sometimes negative, headline inflation," Constancio said Tuesday. "That will start to change in the last quarter of this year and I am very confident that the forecast that next year we will be above 1 percent will materialize, and certainly then will continue to increase for 2018."
Side Effects
Constancio acknowledged the potential side effects of negative rates, such as the impact on banks' profitability that can't be ignored "for a longer period of time." Even so, he maintained that the "overall effect" of the central bank's policy has been "positive."
There are levels that "would then lead to a preference for cash and the policy would then not be efficient any more and create other problems," he said. "We are still very far away from that but it's a limit."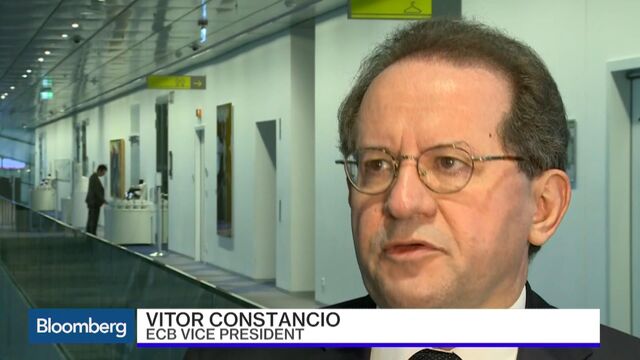 Constancio was speaking after the ECB published its twice-yearly Financial Stability Review, in which the central bank highlighted the rise of populist movements as a potential cause of financial turmoil alongside slower growth in emerging markets and lenders' compressed margins.
Brexit Risk
Asked about 'Brexit' in the Bloomberg interview, Constancio said banks are well prepared for the volatility that the British referendum on an exit from the European Union may produce and will be "resilient." At the same time, a U.K. vote to leave may bring more cohesion to the remaining EU countries.
It is "very difficult to predict the effects of such an event that certainly I hope will not materialize," he said. "There can be another type of reaction in other segments of the European population, that we have to defend ourselves by deepening integration and reaffirming the willingness of keeping the European Union together. In that case unfortunately without the U.K."
Before it's here, it's on the Bloomberg Terminal.
LEARN MORE