Bayer Says It's Confident It Can Meet Monsanto Deal Demands
by , , and
German company says it will address finance, regulatory issues

Monsanto rejected $62 billion offer, which it said was too low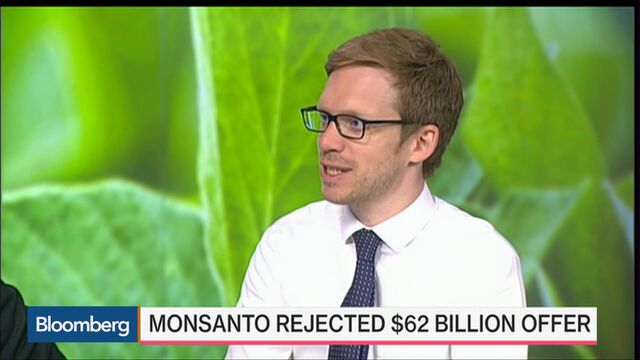 Bayer AG, whose $62 billion takeover bid was rejected earlier by Monsanto Co., said it's confident it can overcome the seed company's concerns about the regulatory and financing risks related to a deal that would create the world's largest supplier of seeds and crop chemicals.
The German company said Tuesday it looks forward to further talks with Monsanto. Hours earlier, St. Louis-based Monsanto announced its board decided unanimously to spurn the all-cash offer for being too low. The U.S. company added that it believes in the benefits a merger would bring and that it respected Bayer's business, leaving the door open for further discussions.
"We are pleased that Monsanto's board shares our belief in the substantial benefits an integrated strategy could provide to growers and broader society," Bayer Chief Executive Officer Werner Baumann said in a statement.
The conciliatory tone from both sides sets the stage for an improved offer from Bayer. While Monsanto has consistently traded at less than the $122-a-share offer price since the companies started discussing a deal, the stock rallied Tuesday, gaining 2.7 percent to $122.21 at 9:38 a.m. in New York.
Bayer's comments were "very positive," Brett Wong, an analyst at Piper Jaffray Cos. in Minneapolis, said in an interview. Bayer can afford to pay as much as $140 a share and still add to double-digit growth in earnings in the mid-term, Jeffrey Holford, an analyst at Jefferies LLC, said in a note.
For a Gadfly commentary piece on Monsanto's rejection, click here.
Still, some Bayer investors have speculated it doesn't have much headroom to offer extra cash. The break-fee demanded by Monsanto may be much higher than normal because of the risk that industry consolidation will leave potentially fewer buyers for any assets sold off by Bayer-Monsanto to satisfy regulators, Bloomberg Intelligence analyst Jason Miner said. There's also lingering concern over whether the deal will be passed by competition authorities as the combination of both companies could account for more than 30 percent of the global crop-inputs business.
"The regulatory hurdles are higher," Miner said by phone. "You're involving more countries and more political hot potatoes than maybe your typical M&A."
Cost Savings
Monsanto is the largest seed supplier and a pioneer of genetically modified crops, which two decades on from their introduction have come to account for the majority of corn and soybeans grown in the U.S. But despite its preeminence in seeds, the company has become vulnerable to a takeover as a number of problems piled up this year. Monsanto has cut its earnings forecast, clashed with some of the world's largest commodity-trading companies and become locked in disputes with the governments of Argentina and India.
Farmers have seen their incomes fall in the last few years amid declining commodity prices, and that's spurred them to increasingly demand products tailored to their needs, according to Miner, one factor that's spurring Bayer and Monsanto to consider a merger. Their combination could also create cost-savings, estimated by Bayer at about $1.5 billion after the first three years.
A similar logic is driving China National Chemical Corp.'s deal, agreed in February, to acquire Swiss pesticide maker Syngenta AG for about $43 billion. Meanwhile DuPont Co. and Dow Chemical Co. plan to merge in and then carve out a new crop-science unit.
Shares of Bayer fell 2.5 percent to 86.19 euros as of 3:40 p.m. in Frankfurt. The stock is down since the company's interest in a deal was first reported May 12. Bayer may be starting to listen to investors who aren't happy with the bid, said Jonas Oxgaard, an analyst with Sanford C. Bernstein & Co. in New York. Its response to Monsanto's rejection suggests it's not going to raise the offer immediately, he said, but rather "engage in dialogue first."
Moody's Investors Service on Tuesday placed Bayer's A3 credit rating under review for a downgrade because of the Monsanto offer. Fitch also said it may cut its rating.
Before it's here, it's on the Bloomberg Terminal.
LEARN MORE