Bayer's Top Managers Swoop in to Buy Stock Amid Monsanto Slump
by and
CEO Baumann buys about $1 million worth of shares in two days

Liam Condon buys $272,500 worth of Bayer shares Monday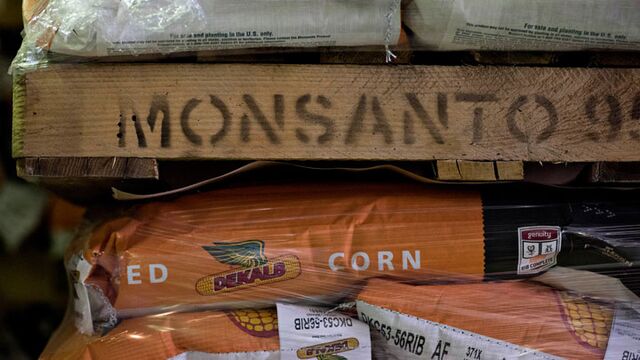 Bayer AG's Chief Executive Officer Werner Baumann and his top lieutenants took advantage of the rout in the stock to buy 1.7 million euros ($1.9 million) of shares, signaling their confidence in the German company amid its efforts to buy Monsanto Co.
Baumann purchased 5,000 Bayer shares on Tuesday for 84.53 euros apiece and 6,000 shares yesterday at 87.21 euros each, according to filings to the German stock exchange. Liam Condon, who heads the crop science unit, Chief Financial Officer Johannes Dietsch and Hartmut Klusik, who heads human resources, each bought around 250,000 euros worth of stock yesterday.

Bayer's top managers are using more than their pocketbooks to shore up support for the $62 billion bid for Monsanto. They also set out from headquarters in the German industrial town of Leverkusen to explain the rationale for the deal on Tuesday after seeing the company's market value plummet by $14 billion over the past two weeks.
Buying Monsanto would allow Bayer to tap growing demand at a time when farmers must boost productivity to feed an estimated 10 billion people globally by 2050. Baumann is hoping that notion will convince skeptical investors of the value of the deal -- and help overcome public backlash at home against Monsanto's genetically modified seeds -- as he seeks to pull off the biggest corporate takeover ever by a German company less than a month into his tenure as CEO.
Before this week, his last transaction was a share sale at the end of 2013, according to the company's disclosure statements. This week's share purchases were private, a spokesman said. He couldn't say how many Bayer shares Baumann already owned.
Before it's here, it's on the Bloomberg Terminal.
LEARN MORE