business
Bayer Managers Hit the Road to Spell Out Monsanto Bid Rationale
By and
Baumann's team is heading to London, Frankfurt and U.S.

German company has seen $14 billion eroded from market value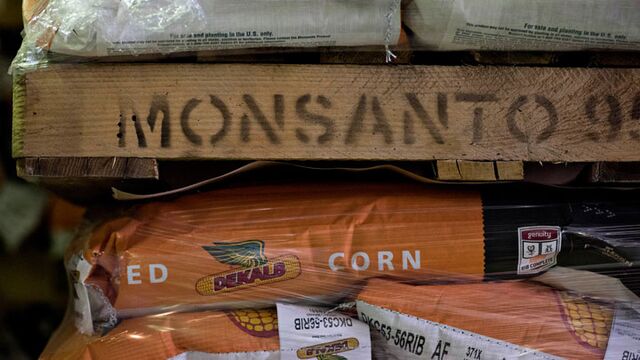 On Monday, Bayer AG executives took to the phones and the press to tell investors why a $62 billion bid for Monsanto Co. makes sense. Now they're using a more personalized approach.
Members of Bayer's top management are setting out from headquarters in the German industrial town of Leverkusen to build support among portfolio managers and institutional investors after seeing the company's market value plummet by $14 billion over the past two weeks.
Chief Executive Officer Werner Baumann and other executives are making trips to London, Frankfurt and the U.S. to meet with shareholders as Bayer seeks to become the world's biggest seller of seeds and farm chemicals.
Bayer shares have plunged 15 percent since May 11, the day before Bloomberg News reported the proposed acquisition, as investors speculated that the bid would strain the finances of the 152-year-old company. After the two sides last week acknowledged that Bayer had made an offer, the stock saw its biggest drop in seven years. Painting that as an "an uneducated reaction," Baumann on Monday made public his price -- $122 per share -- and other details of the bid.
'More Credibility'
"They are now coming over to see investors, so I think it gets more credibility in that sense, we get more detail, we get more explanation of why they are doing the deal," said Andrea Williams, head of European equities at Royal London Asset Management Co., which manages 1.3 billion pounds ($1.89 billion) of European stocks including Bayer shares. 
Shares of Bayer fell 0.6 percent to 84.46 euros as of 11:41 a.m. in Frankfurt trading.
Buying Monsanto would allow Bayer to tap growing demand at a time when farmers must boost productivity to feed an estimated 10 billion people globally by 2050. Baumann is hoping that notion will convince skeptical investors of the value of the deal -- and help overcome public backlash at home against Monsanto's genetically modified seeds -- as he seeks to pull off the biggest corporate takeover ever by a German company.
Skeptical Investors
There's work to do to persuade Monsanto investors too: Monsanto shares closed 13 percent below Bayer's offer on Monday. That's partly because of an assumption that there could be "regulatory hiccups," Chris Shaw, an analyst at Monness Crespi Hardt & Co., said in a note.
"There seems to be some real skepticism over the deal, likely due to the increased scrutiny recent mergers have received," Shaw said by phone.
A combination of Bayer and Monsanto is the third megadeal that promises to reshape the industry that supplies the world's farmers with pesticides and genetically modified seeds. Regulators are already examining the proposed $130 billion merger between Dow Chemical Co. and DuPont Co., while national security officials in the U.S. are weighing China National Chemical Corp.'s bid to acquire Syngenta AG of Switzerland.
Before it's here, it's on the Bloomberg Terminal.
LEARN MORE