Yuan Watchers See Decline, No Disorder as PBOC Learns Lesson
Bloomberg News
Top forecaster sees use of intervention, fixing to steady rate

Chinese currency weakens to three-month low as dollar rebounds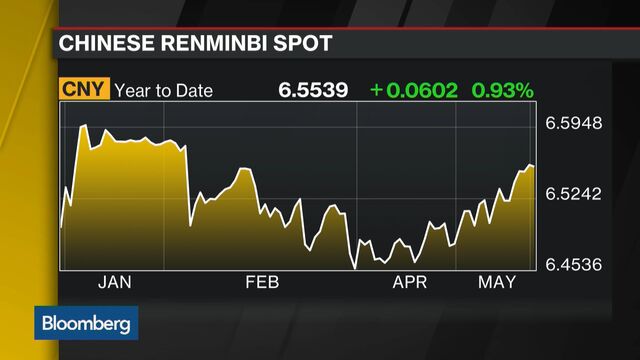 Investors are about to find out whether global markets can cope with a sliding yuan.
China's currency is down 1.2 percent this month amid rising odds of a Federal Reserve interest-rate increase in June, a sustained retreat that hasn't been seen since a January slide spurred a worldwide rout in equities. Natixis Asia Ltd. and Roy Teo at ABN Amro Bank NV, the yuan's top forecaster, see further declines for the currency without a repeat of the chaos.
QuickTake The People's Currency
"The central bank has learned its lesson and it won't let the market fall into panic as it did in January," said Iris Pang, Hong Kong-based senior economist for Greater China at Natixis Asia, which had among the most bearish forecasts for the yuan during the height of the January turmoil. "But this is the start of a new bout of depreciation, and the good times of enjoying a stable exchange rate against the dollar and a weaker currency versus the basket is forever gone."
China will use the currency's daily fixing, intervention and stepped-up verbal support to avoid spooking investors, according to Teo. The yuan's slump at the start of the year, and its shock devaluation in August, roiled markets around the world. Traders so far aren't preparing for a repeat, with historical volatility on a gauge of global equities at the lowest in almost a year. The probability of the yuan dropping to 7 a dollar by the end of 2016 has moderated to 13 percent, from more than 30 percent in January, options prices show.

The People's Bank of China scrapped its market-based mechanism for managing the yuan on Jan. 4 and returned to setting the exchange rate based on what suits authorities the best, the Wall Street Journal reported, citing unidentified people close to the central bank.
China's monetary authority in February and March followed a strategy of allowing limited gains against the dollar to arrest capital outflows, and guiding depreciation against the currencies of trading partners to help exports. That plan, which worked well amid the greenback's biggest quarterly decline since 2010, has been thwarted by a surge in the dollar as the Fed prepares to raise borrowing costs.
"You are starting to see some hedging of a weaker yuan in the options market, but this is more of a market positioning on a bit of hedging risk," said ABN Amro's Teo. "I do not expect this to be of similar magnitude to that of January or August."
Bearish Bets
Betting against the yuan became such a popular trade among hedge funds earlier this year that billionaire investor Bill Gross compared it to the 1992 speculative attacks on Britain's pound. The offshore exchange rate's discount to the currency, a barometer for depreciation pressures, swelled to a record 2.9 percent early this year and is now at 0.13 percent. Capital outflows, which swelled to an estimated $1 trillion in 2015, have abated as well.
Pessimists are now holding off after being burned as the authorities intervened in the spot market, clamped down on capital flows and waged a verbal campaign that dismissed short-sellers as delusional. The extra cost for three-month options to sell the yuan against the dollar over contracts to buy dropped to the lowest in four months in May, while the currency's implied volatility, which tends to rise when traders expect bigger price swings, was about half of January's peak.
Traders are now placing a 32 percent chance of a Fed rate increase next month, compared with 4 percent a week ago, as more U.S. central bank officials spoke of the possibility of action. Boston Fed President Eric Rosengren told the Financial Times that he's getting ready to back a tighter monetary policy, while his San Francisco counterpart, John Williams, said on Fox News that the June meeting could be "appropriate" for increasing borrowing costs.
'More Measures'
"The PBOC won't let the market develop very strong expectations for depreciation, which will drive up demand for foreign currency from domestic individuals and companies," said Gao Qi, a strategist at Scotiabank in Hong Kong, who expects the yuan to drop to 6.7 a dollar by end-2016. "But I expect the financial markets to be relatively stable in the second half, so China will likely take more measures to open up the capital account. The government will introduce capital control measures only if there's massive panic in the market."
More Declines
Analysts are still predicting a 1.6 percent drop in the onshore yuan to 6.66 a dollar by the end of this year, as a slowdown in China's economy worsened. Data including on industrial production and retail sales missed estimates for April, while exports posted a surprise decline. The Chinese currency was trading at 6.5560 on Tuesday, after declining for three straight weeks in the longest such run since December and hitting a three-month low on Monday. A gauge of the greenback's strength has risen 3.4 percent this month, after a 4.1 percent plunge in the first quarter.
Shorting the Chinese currency against the dollar, Japanese yen and Russian ruble would help investors position for the nation's policy of gradually weakening its currency on a trade-weighted basis, Deutsche Bank AG strategists including Mallika Sachdeva wrote in a May 20 note.
"The PBOC will likely be more reactive," said Eddie Cheung, a currency strategist at Standard Chartered Plc in Hong Kong. "It will be similar to them putting on measures to slow outflows this year. Currently it's still unclear that the Fed will hike in June, but there are certainly a lot of financial market risks."
Watch next: Why China Wants to Control its Currency Risk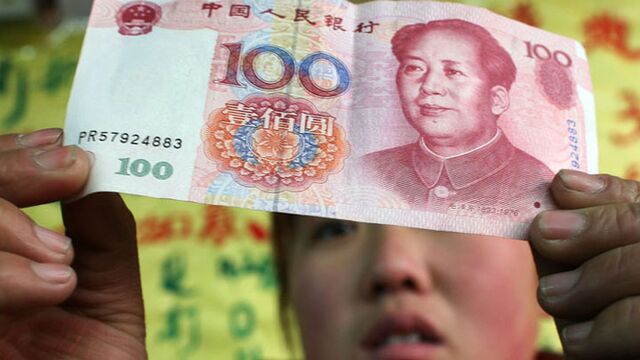 — With assistance by Tian Chen
Before it's here, it's on the Bloomberg Terminal.
LEARN MORE