Photographer: John Guillemin/Bloomberg
U.K. Approves Fracking for First Time Since 2011 Earthquakes
by
Gas company Third Energy granted permission to frack one well

Last fracked well in U.K. was in 2011; 1-year ban followed
Third Energy U.K. Gas Ltd. was given the go-ahead to frack an existing U.K. natural gas well, overcoming last-minute protests and reviving a practice not used in Britain for five years.
North Yorkshire County Council on Monday approved a proposal by Third Energy to create five fractures in a vertical gas well in the Ryedale district in northeast England. The council's planning committee voted by a margin of seven to four in favor of the plan after a two-day meeting that drew heated opposition.
"It's obviously very positive news and it's an important first step," said Corin Taylor, a director at U.K. Onshore Oil and Gas, a trade association that represents Third Energy and spoke in favor of its application. "Now it will really be about whether or not that gas can be produced in sufficient quantities," said by phone.
The decision comes in the middle of a national debate about fracking, gas supply, climate change and energy security. Plunging domestic production has caused Prime Minister David Cameron's government to support the controversial practice to shore up energy supplies. Fracking caused tremors in the U.K. in 2011 after Cuadrilla Resources Ltd. unknowingly drilled into an area with a fault. A temporary moratorium was put in place as the government sought to address concern the technique is unsafe. 
Opponents can still contest the approval and request a judicial review. That could delay Third Energy's plans by a year if an injunction is put in place that halts work while the U.K. government determines whether the application is valid, according to Taylor.
Third Energy's Chief Executive Officer Rasik Valand said the company viewed the approval as a "huge responsibility" rather than a victory, according to a statement on its website. "We will have to deliver on our commitment, made to the committee and to the people of Ryedale, to undertake this operation safely and without impacting on the local environment."
Hydraulic fracturing, or fracking, uses water, sand and chemicals to blast underground rock to release trapped fuel.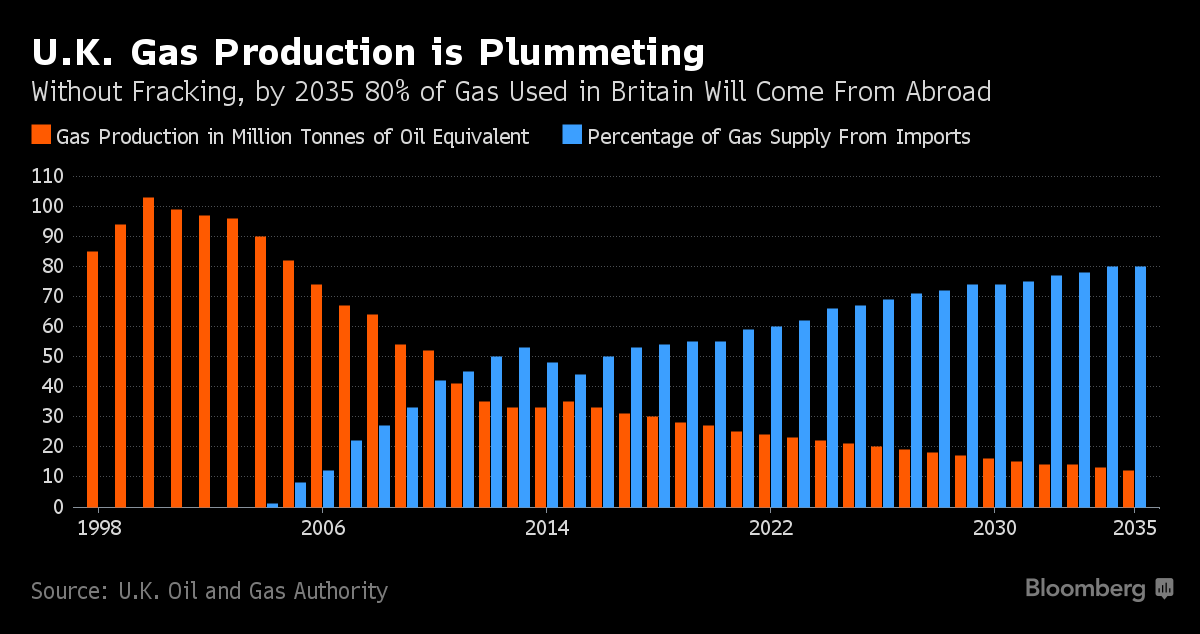 The U.K. may have as much as 26 trillion cubic feet of technically recoverable shale gas, the U.S. Energy Information Administration said in 2013, or about nine years of the nation's gas consumption. It should become clearer whether other companies will be able to resume fracking in the U.K. by the end of the year.
Third Energy's gas application, filed in June 2015, requested permission to fracture an extension of a well drilled in 2013 in the northern English countryside and carry out associated clean-up and monitoring activities. The company estimates the fracking will be completed within eight weeks and says the purpose is to flow test gas to help determine the volume of reserves in the Bowland Shale.
"That will be an important result but it's not necessarily the case just because the well flows there it will flow everywhere," said Taylor. "You do need to carry out tests in other wells as well."
An application by Cuadrilla to drill eight exploratory wells in northern England has been under consideration by local officials for three years and will be decided on by Secretary of State for Communities Greg Clark by July 4. Ineos Group, the U.K.'s largest closely held company by sales, expects fracking in the country within two years and estimates seismic surveying will be completed in about six months. IGas Energy Plc is looking at existing data on exploration blocks awarded to it by the U.K. government to determine areas rich in shale gas deposits.
Units of Engie SA and Total SA also have interests in "unconventional" oil and gas exploration blocks in the U.K., according to government filings.
"This will boost the shale gas industry across the North of England," Francis Egan, CEO of Cuadrilla, said in a statement. "We remain confident in the strength of our appeal case for our own applications to frack the U.K.'s first horizontal wells in Lancashire and hope for a positive decision later this summer."
Before it's here, it's on the Bloomberg Terminal.
LEARN MORE