Tudor Cuts Fees on Biggest Fund to Keep Investors on Board
by
Firm's charges are among the hedge fund industry's highest

Macro hedge fund declined 2.6% this year as of May 13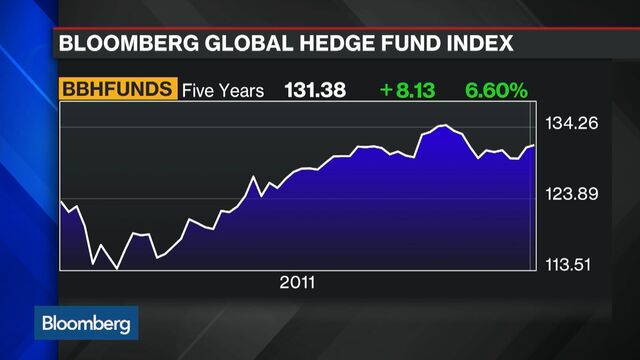 Tudor Investment Corp., one of the oldest and most expensive hedge funds, is trimming fees as the finance industry's highest-paid money managers face a growing backlash over their lackluster performance.
The $11.6 billion firm, run by billionaire Paul Tudor Jones, will reduce fees for a share class that contains most of its biggest fund's money to 2.25 percent of assets and 25 percent of profits, starting July 1, according to a letter sent to clients on Monday and obtained by Bloomberg. The fees were 2.75 percent and 27 percent.
"Funds underperforming for two, three sequential years will be vulnerable to fee-cutting pressure," said Peter Rup, chief investment officer at New York-based Artemis Wealth Advisors, which oversees $900 million for clients. "This is another shake out we are seeing in the industry."

Tudor, which suffered about $1 billion in client withdrawals last quarter and posted losses this year, is making the changes after remaining clients pushed for lower fees, according to two people familiar with the matter. While the firm still charges more than most peers, the concessions highlight a changing balance of power in the industry, which has come under attack from investors and rival money managers. 
China Investment Corp., the nation's sovereign wealth fund, said it was disappointed by the industry's performance for the fees charged. The $187 billion California State Teachers' Retirement System said the hedge-fund fee model is "broken."
Tudor is also introducing a new pool for clients with $50 million in investments or more that will charge 2 percent of assets and 25 percent of profits. The firm is keeping fees for the main fund's oldest share class unchanged at 4 percent of assets and 23 percent of profits.
Hedge fund managers, which are among the highest paid in finance, traditionally have charged clients 2 percent of assets and 20 percent of performance.
Macro Struggles
Tudor, which veteran macro-economic trader Jones, 61, started in 1980, is among the many macro hedge funds that have posted lackluster returns since the global financial crisis. Tudor's main BVI Global macro fund, which makes bets on broad economic trends by trading everything from currencies to commodities, has lost 2.6 percent for clients this year through May 13, according to an investor report. The fund's oldest share class for that fund has dropped 3 percent. 
Patrick Clifford, a spokesman for Tudor, declined to comment on the cut in fees.
Macro funds lost 1.3 percent in the first four months of 2016 and 0.9 percent annually in the past five years, according to data compiled by Bloomberg. That compares with the broader industry, which has returned 0.6 percent this year and 0.9 percent annually.

Hedge fund managers have been stymied by central bank stimulus worldwide, declining trading volumes and markets marked by both narrow and wide swings in prices. Some investors are also pulling their money from Alan Howard's Brevan Howard Asset Management, another macro fund. BlackRock Inc. and Fortress Investment Group LLC are among the firms that liquidated macro funds in 2015 following losses.
Billionaire Warren Buffett last month described hedge fund fees as "a compensation scheme that is unbelievable" and said investors would be better off ditching expensive money managers. Bill Gross of Janus Capital Group Inc. said on Twitter: "Hedge fund fees exposed for what they are: a giant ripoff. Forget the 20 -- it's the 2 that sends investors to the poorhouse." The investment chief for the University of California's $97.1 billion of endowment and pension assets said paying high fees for mediocre performance is "absurd."
Scaling Back
New York City's pension fund for civil employees and American International Group Inc. are among investors that are pulling money or scaling back their hedge fund investments. AIG, the insurer burned by losses on such funds, submitted withdrawal requests of $4.1 billion in the first quarter.
Some managers have trimmed fees in recent years in exchange for getting larger investments from clients and locking their money up for longer periods. Funds on average charge a 1.5 percent fee on assets and take a 17.7 percent cut of profits, according to data from Hedge Fund Research Inc.
Tudor is unlikely to be starting a major trend, however, said Michael Rosen, chief investment officer of Angeles Investment Advisors, a Santa Monica, California-based firm that helps clients invest in hedge funds.
"I doubt that the cut in fees will be systemic in the industry since funds that are performing well and capacity constrained don't need to resort to lowering fees," Rosen said.
Tudor, which is based in Greenwich, Connecticut, has offices from London to Singapore. The firm also opened a location in Palm Beach, Florida, in January. Jones, who has lived in Connecticut, also registered as a resident of Palm Beach county in the same month, according to a filing. The company also owns private jets.
Jones, who founded the Robin Hood Foundation that helps fight poverty in New York City, began his career in 1976 after graduating from University of Virginia with a bachelor's degree in economics. Through his uncle who was a cotton merchandiser, he got a job as a trader on the floor of the New York Cotton Exchange. From there, Jones became a commodities broker at E.F. Hutton & Co., trading futures on the cotton exchange for clients before starting Tudor.
Before it's here, it's on the Bloomberg Terminal.
LEARN MORE