The Hedge Fund That Couldn't Stay Open Long Enough for a Big Payday
by and
Money managers forced to unwind bets against Portuguese bank

Funds in retreat miss out on paydays of almost $70 million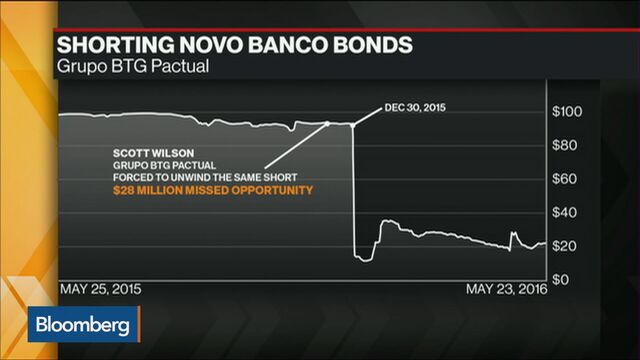 Toby Dodson waited six months for his bet against a fragile Portuguese bank to pay off.
But before the reckoning, word came down from his hedge fund bosses at Achievement Asset Management in Chicago: get ready to clear out your desk and unwind your trades, we're shutting down. They'd lost too much on U.S. energy companies and so became one of the 979 firms to announce their closure last year.
That's how the 29-year-old Dodson, who specializes in financial companies, and the firm lost out on a $40 million payday, according to people with knowledge of the matter. He learned about his missed windfall from clients who called him on Dec. 30 as the Portuguese notes cratered -- proving he'd bet right.
"My phone had all these missed calls from former colleagues, brokers and sales guys who knew I'd shorted them," the London-based Dodson said. "The timing was frustrating, but all you can do is smile." He declined to comment on the size and timing of the trade.
Missing out on a multi million-dollar win only adds insult to injury for traders caught up in the ongoing hedge fund convulsion. It's a reminder of how being right is only half of the challenge for those handling other people's money. Keeping investors onside for long enough to profit from trades that sometimes take months to pay off can be as challenging as being right these days.
Investors put off by disappointing returns and high fees at hedge funds pulled their money out in 2015 at a rate not seen since 2009, according to Hedge Fund Research Inc. Insiders say it's just getting started.
"There is no doubt that we are in the first innings of a washout," Dan Loeb wrote last month in a quarterly letter to investors in his New York-based firm Third Point LLC.
Dodson wasn't alone in missing out on the Portuguese bet. Scott Wilson, 49, a money manager in London for Grupo BTG Pactual's hedge fund unit, was forced to unwind the same trade.
Like Dodson, who is now raising money for a new fund focusing on distressed debt, Wilson placed bets that would pay out if bonds of Portuguese lender Novo Banco SA fell. The senior securities plunged 80 percent on Dec. 30 after Portugal's central bank imposed losses on bondholders, a move that blindsided some of the world's largest money-managers including BlackRock Inc. and Pacific Investment Management Co.
Trade Unwound
Wilson's firm could have made about $28 million overnight, according to a person familiar with the matter. But it didn't.  
The BTG fund, for which Wilson no longer works, saw its assets drop to about $250 million in February from more than $4 billion in November as investors pulled money following the arrest of BTG Pactual's billionaire founder Andre Esteves. He was accused of trying to obstruct a corruption investigation, which he denied, and was later released.
In the upheaval, Wilson had to dump the trade to return investors' cash.
Still, in some cases, and with a bit of luck, there was money to be made.
Take Daniel Gish of Chicago-based Balyasny Asset Management LP who also shorted Novo Banco's senior bonds. He kept its position open through Dec. 29, netting the firm a $15 million profit, according to two people familiar with the matter. Gish declined to comment and an official for Balyasny didn't respond to a request for comment.
Investors may have missed red flags as early as September in remarks made by senior executives at Banco Comercial Portugues SA and Caixa Geral de Depositos SA in separate financial-industry conferences in London, Dodson said. The banks, who stand to lose money if Novo Banco is sold cheaply, indicated they weren't against imposing losses on bondholders.
Dodson still gets a certain satisfaction from being right even if the trade was unwound.
"No-one was pushing the bear case because they were all long the bonds," he said. "I wasn't quiet about my position because I wanted to make the case no one else would, and it was nice to be vindicated."
Before it's here, it's on the Bloomberg Terminal.
LEARN MORE