Swisscom CEO Faces 74% Pay Cut as Voters' Wrath Strikes Again
by
Initiative would limit pay at Swiss state-controlled firms

Polls indicate voters will back measure at June 5 ballot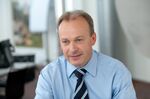 Urs Schaeppi is set to become the latest victim of Swiss voters' increasing hostility toward high earners.
QuickTake Swiss People's Power
The Swisscom AG chief executive officer could see his annual pay cut by three quarters to 475,000 francs ($480,000), if the electorate votes on June 5 to limit executive compensation at state-controlled companies.
The "Pro Service Public" initiative, which would also affect rail-road operator SBB and the national postal service, follows a 2013 plebiscite that introduced some of the toughest rules on executive pay. Together with a 2014 vote that limited immigration, concerns are mounting that Switzerland's direct democracy may be diminishing the allure of a country that regularly tops global business rankings.
"Those types of popular initiatives have harmed Switzerland's reputation for doing business," said Jon Cox, head of Swiss equities at Kepler Cheuvreux in Zurich. "In Switzerland, there has been a general backlash against pay."
While -- thanks to its infrastructure, education and efficient public institutions -- Switzerland has headed the World Economic Forum's Competitiveness Index for the past six years, the WEF has warned its standing could suffer if it were no longer able to attract top talent. One key element would be pay.

The initiative, designed to improve public services, would ban cross-subsidization between companies and stop firms from aiming to post a profit in the area of basic services. The stipulation that an executive be paid no more than a government minister is only one element.
"The problem is, if we give managers too large salaries, we won't have the best public services -- they don't serve the general public," Matteo Cheda, who backs the measure, told public broadcaster SRG in a debate. "It attracts the wrong people."
Switzerland isn't the only country to take issue with executive salaries at state-controlled companies. In France, CEO salaries at firms where the government holds a majority stake are limited to 450,000 euros ($505,000) a year.
Profit Maximization
According to the Swiss initiators, focusing on profit is detrimental to the quality of the services offered. The government disagrees.
"Passing the initiative would bring about the contrary of what it promises," said Transportation and Telecommunications Minister Doris Leuthard. "Disallowing profit maximization on basic services would hinder future innovation and investments because there wouldn't be the necessary funds."
SBB CEO Andreas Meyer goes even further, telling Bilanz magazine that his company is "doomed to fail" if voters back the initiative.
Still, an April poll by gfs.bern shows the measure has public support, though the opinion forming process is at an early stage, which means the vote could go either way. A second survey probably will be published this week.

Restricting the top earners' incomes would trigger a cascade of pay cuts, affecting more than 7,000 people, according to a study conducted by University of Zurich commissioned by the "no"-committee.
At Swisscom, in which the state holds a 51 percent stake, more than 16 percent of the company's 17,800 workforce would be directly hit and CEO Schaeppi has said the initiative would diminish the quality of public services, urging for a "no" vote.
So far, the referendum hasn't impacted Switzerland's biggest phone company's share price, which -- while down more than 7 percent this year -- has outperformed the Bloomberg Europe 500 Telecom Services Index.
Cheuvreux's Cox says this could change if "Pro Service Public" finds favor at the ballot box next month. "If it passes, it would have serious repercussions for Swisscom."
The government also warns of the impact on unlisted companies like the post or the railroad.
"Public services are a hallmark of our country," Leuthard said. "They belong to our country like the Alps."
Before it's here, it's on the Bloomberg Terminal.
LEARN MORE